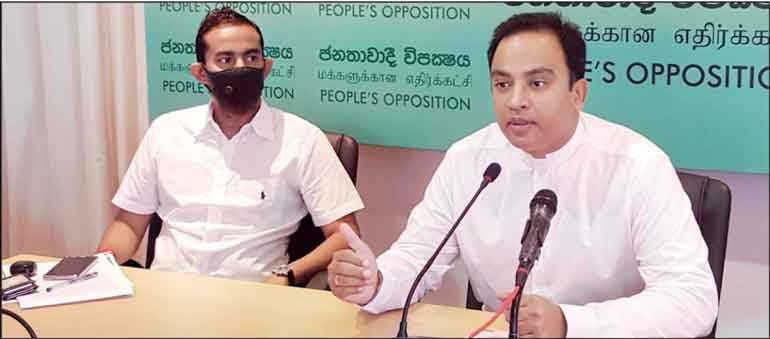 SJB Parliamentarian Harshana Rajakaruna and SJB Youth Force Secretary Chamith Wijesuriya addressing the press yesterday
---
Appeals for Govt. to impose lockdown to reduce virus spread
Warns death toll could increase unless decisive steps taken
Questions decision to reopen schools, says economy cannot get priority over lives
---
By Asiri Fernando
---
The Samagi Jana Balawegaya (SJB) yesterday urged the Government to enforce quarantine curfew for the Colombo municipality area and reconsider reopening of schools given the rapid spread of the COVID-19 virus within the district.

Speaking at a press conference yesterday, SJB Parliamentarian Harshana Rajakaruna called on the Government to listen to concerns expressed by medical professionals and take action to prevent loss of life. He was joined by SJB Youth Force Secretary Chamith Wijesuriya.

"From March to October Sri Lanka recorded 20 COVID-19 related deaths. However, in the span of less than a month it has reached 70. The Government Medical Officers Association has warned that the death toll can reach higher. So, what needs to be done? We cannot only think of the economy and put the public at risk. We urge the Government not to play with the lives of the public," Rajakaruna said.

Rajakaruna urged the Government to take the tough decisions needed to protect public health, calling on the leadership and the medical authorities to impose quarantine curfew on the Colombo municipality areas and other areas where a high number of positive patients have been detected.

"What is surprising is that the Government has now told schools to reopen from 23 November. We see the decision to reopen schools as a very dangerous act. Why is the Government taking such decisions at a time when it is clear that school children will not be able to attend schools safely?" the Opposition MP questioned, calling on the Government to reconsider the decision.

The SJB questioned if reopening of schools should be the priority during a surge in COVID-19 infections. Rajakaruna charged that the plan to reopen schools was a decision taken by the Government to mislead the public that "all was well".