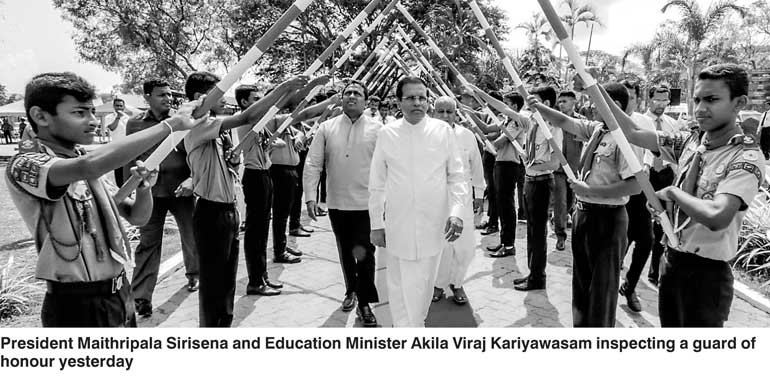 President Maithripala Sirisena has emphasized the need of Line Ministries and Local Authorities working together in a consensual and friendly manner.

In the case of a dispute regarding the rights and privileges between these two institutions, the people who benefit through these institutions will be affected, the President had further said.

The President made these remarks participating in a programme held at the Polonnaruwa Royal College, on Friday to enhance education standards of the Polonnaruwa District.

President Sirisena added no matter what party the politician belonged to they must work with State officers in a consensual and friendly manner with the institutional structure established according to the Constitution of the country.

The President emphasized that when fulfilling the responsibility of providing education to children everyone must work with honest commitment together. The President further explained the need of giving guidance for the children to provide quality education as well as to create a disciplined society. This meeting was summoned with the aim of providing better education for the children while ascertaining the developments, progress, issues, challenges and shortages in the field of education of the Polonnaruwa district.

The President said that this programme can be consider as an initial programme of a series of programmes to be held to enhance the education of the children as well as to build better younger generation who values ethical standards in the district. He also said that he has given instructions to the relevant sections to continue this programmes in the future by conducting this kind of event once in three months.

During this event, the Zonal Education Director apprised the President regarding the progress in the education sector of the Polonnaruwa district.

The Education officers, Education consultants and Principals presented issues relating to the education sector of the district.

Minister of Education Akila Viraj Kariyawasam, the Governor of the North Central Province P.B. Dissanayaka, Education Ministry Secretary Sunil Hettiarachchi and others participated in this event.
---
President visits Russian Embassy
President Maithripala Sirisena this week conveyed his deepest sympathies on the tragedy that occurred due to a fire in a Russian leisure centre, Winta Cherry Centre in Kemerovo, Russia, causing loss of lives and injuries to many, including children.

President Sirisena who visited the Russian Embassy in Colombo wrote a special note of condolence on the Condolence Book. In his note to Russian President Vladmir Putin, President Sirisena extended the condolences of the Sri Lankan Government and people to President Putin, the Government and the people of the Russian Federation and to the bereaved families of the victims. He said that Sri Lanka shared the sorrow of the friendly people of Russia in this moment of pain.

At the Embassy of Russia, the President was welcomed by Ambassador Yuri Materiy and office diplomatic staff.

Afterwards, President Sirisena engaged in conversation with the Ambassador of Russia.