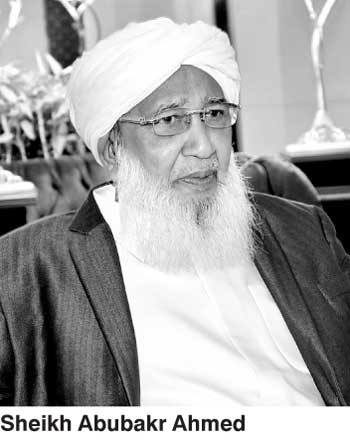 New Delhi: Sheikh Abubakr Ahmed, a prominent Muslim Indian leader and the General Secretary of All India Sunni Scholars Association, said in a press release that the Sri Lankan Government should immediately act all the ways to prevent the brutal attacks against Muslims in the country.

He said that the official news agencies reported that the Muslim community in the country who are considerably in the minority in Sri Lanka, were being harassed, threatened and killed and their houses and shops burned.

"This is very tragic. Therefore the Government must take strong actions in order to re-establish the quietness of the country. Those who make trouble should be punished regardless of their religion or ethnicity.

"Sri Lanka is a neighbouring country of India. Indians have a long historical relationship with its people. Many of the country's ancestral Sufi tombs are still being visited by Indian Muslim believers. When I travelled to Sri Lanka, I witnessed that Muslims had been living in diverse communities with peace and co-existence. The Buddhists who comprise the vast majority of the country's population should not support any such attacks.

"Those who riot have no religious spirit as well, rather they use religion as a tool to make trouble. So the extremist Buddhist monks who inject destructive poison in the mind of common believers for the sake of creating troublesome situations in the country must be punished. The Government must restore stability as soon as possible and support those who lost everything in the riots," Sheikh Abubakr said in the press release.