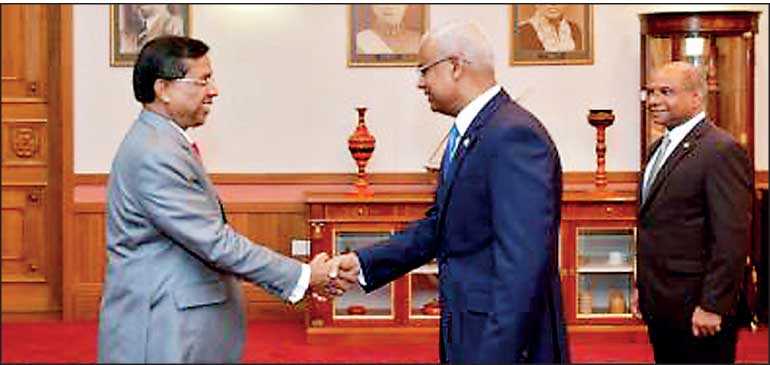 On 30 October Ambassador-designate K.W.N.D. Karunaratne presented Letters of Credence to Republic of Maldives President Ibrahim Mohamed Solih at the President's Office in Malè accrediting him as the Ambassador of Sri Lanka to Maldives. The Ambassador was accompanied by the staff of the Sri Lanka Embassy.

The ceremony entailed the Presentation of Credentials, followed by a Guard of Honour of the Maldives National Defence Force at the Republic Square of Malè and then under 'Haiykolhu' (special umbrella) walked towards the President's Office with 'Beru Dhunmaari' procession.

Ambassador Karunaratne conveyed greetings of President of Sri Lanka Maithripala Sirisena and Prime Minister of Sri Lanka Ranil Wickremesinghe, recalling their visits to Maldives in 2015 and 2019. Also, the Ambassador expressed his deep appreciation to the Maldives for the support extended to Sri Lanka in bilateral as well as in multilateral areas.

President Ibrahim Mohamed Solih reciprocated his greetings to the President of Sri Lanka and recalled his visit to Sri Lanka as a Guest of Honour of the 2019 Independence Day celebrations of Sri Lanka. The President commended on the strong and special bond of friendship and bilateral relations between Sri Lanka and Maldives.

Prior to this appointment, Ambassador Karunaratne was the Ambassador of Sri Lanka to Myanmar. He held many posts for 37 years in the Government sector as well as in the Private sector. During his tenures he served as the Coordinating Secretary to the Minister of Defence, Private Secretary to the Minister of Health, Additional Surveyor General of the Department of Surveys, Chairman – Natural Resources Management Services Ltd. and the Chairman/National Water Resources Board.

Ambassador Karunaratne obtained his Bachelor Degree in the University of Peradeniya in Sri Lanka and obtained three Postgraduate Diplomas in Surveying and Mapping, Rural Area Development and Advanced Technic of Surveying and Land Administration. He is an old boy of Po/Sewamuktha Camp School in Polonnaruwa.