LCI International President Gudrun Yngvadottir and President Maithripala Sirisena
---
Says she is proud of Sri Lankan Lions who serve the needy
Outlines plans to get more women into Lionism to ensure gender balance
Reveals Sri Lanka has fewer female Lions than many other parts of the world
Emphasises that Lions in South Asia have a significant role to play to serve people
Says women need role models in life
Explains need for motivating and encouraging women to take up leadership roles


The first female International President of the 101-year-old Lions Clubs International (LCI) Gudrun Yngvadottir said that Sri Lankan Lions were important partners of the international family and their humanitarian services were commendable. "I am very proud of the Sri Lankan Lions who are involved in different projects to serve their communities," Yngvadottir, a biomedical scientist and a researcher, who was in Sri Lanka early this week said.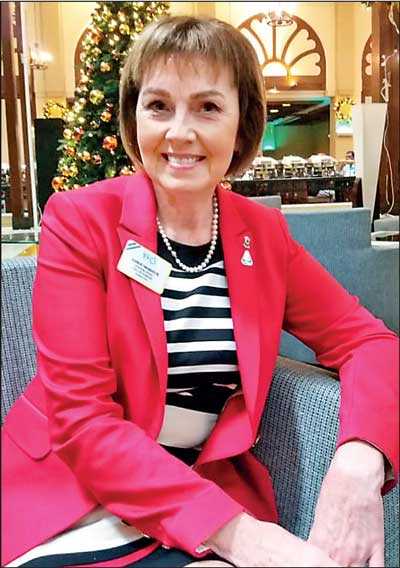 LCI International President Gudrun Yngvadottir
She was called on President Maithripala Sirisena at the Presidential Secretariat on 3 December and a commemorative stamp was issued to mark her three-day visit to the country.

In an exclusive interview with Daily FT, Yngvadottir, who is internationally acclaimed for her humanitarian work, recalled her journey to become the first Lioness to head over 1.4 million members in over 200 countries and revealed her desire to get more women into Lionism to ensure gender balance and create more opportunities for women in decision making in Lions clubs around the world.



Following are the excerpts of the interview:


By Shanika Sriyananda
Q: You have made the history by being the first female to head the 101-year-old world's largest service organisation. How do you feel about your journey?
Being a woman, it opened many doors for me. I get a lot of attention as the first woman to head the LCI. This gave me many opportunities to talk about Lionism wherever I meet people who are not interested in the service that we are rendering to support the needy.
Q: Volunteerism is a difficult task for a woman with her responsibilities at home and work. How did you balance it?
It may be difficult for women in some countries but for me it was not difficult as men and women in Europe and America have the same responsibilities at home. I am a professional woman who has been working in the university all my life. I have a family, children and hobbies but I spare my time for community work and balancing time is very important.

In many countries it is the same but in some other countries it might be difficult. My husband Dr. Jon Bjarni Thorsteinsson, who is a past International Director, is always helping me. When he was holding a leadership position I supported him and now he supports me.
Q: How do you view equality in the LCI?
Well, women have only been in the Lions clubs for around the last 30 years and in the beginning it was difficult for them to have leadership positions because women were always a minority but today we have increased the number and we also have positions in the LCI, which was formed in 1916 by Melvin Jones and enrolled women only from 1987.

Equality can be seen in many clubs but not everywhere. This is why we are going to start the 'New Voices' program to get more women into Lionism and also to make women's voices heard.

I hope more women will join us to have equal numbers of men and women and also to have more women decision-makers. I believe that having better equal opportunities might also help women to attract younger people.
Q: Do you think that you have been able to bring some changes to Lions clubs around the world?
I had lots of opportunities because me becoming the LCI President is a change. Both male and female members have understood the recent changes which allow them to do something different. Therefore they are expecting more changes and they are ready to work.
Q: Do you have plans to expand tree planting, which is vital to mitigate extreme climatic conditions?
Well, LCI has had tree planting programs for the last 30-40 years under its environmental protection projects. We are not new to these programs as tree planting is a signatory project of the LCI under our five global project initiatives, including environmental protection. Tree planting projects are very popular among younger people, who are taking care of the plants. It is very important for all countries to increase their green cover. In many countries which I have visited, they are engaged in tree planting projects.

We, the Icelanders, are very concerned about taking care of nature as my country is a volcanic country. I planted thousands of trees with my parents when I was a child. Since I got married we have planted over 4,000 trees in our own land together with my kids, Lions Club members and other people who are interested in planting trees.

We as Lions have now embarked on this mission to expand the tree planting project to protect the environment in an era where green cover is decreasing due to extensive felling of trees.
Q: With over 1.1 million members in over 200 countries, how do you view the services rendered in the South Asian region?
All of us are doing the same projects but in different ways. When compared to our region – Europe – with the South Asian region, it has a completely different social system. In Europe and other Western countries, the governments are taking care of healthcare and education but that is not the case in other countries. Therefore, Lions in South Asia are needed to take care of health and education. That is why we say 'where there is a need, there is a Lion'.

We are best known for serving sight, but we also feed the hungry, aid seniors and the disabled, care for the environment and so much more. Lions are a global service network of volunteers that make a difference in their local communities.

The Lions in South Asia have a very big role to play as they are the first to respond to the need and they are very dedicated Lions, who are doing a wonderful service.
Q: How do you view the services rendered by the Lions in Sri Lanka?
Lions in Sri Lanka have done a commendable service. I have seen many of their projects, from diabetes screening, vision and building houses to tree planting to protect the environment. I have also participated in one of their projects here. I am very proud of what they do and they are important partners in our international family.
Q: You have some role models in your life; do you think that women need role models in their lives to walk that extra mile to become community leaders?
Yes, it is very important to have a role model in one's life to understand how they have faced challenges in their lives to learn more to enhance your skills.

My mother, who was a professional and also a politician, is my main role model. Then my teacher, Vigdis Finnbogadottir, who taught me French, has significantly influenced in my life. She was elected as the fourth President of Iceland in 1980, she held the post until 1996 and became the longest-serving democratically-elected female head of state of any country.

I have learned much from my role models, who were flourishing and doing many great things in their lives. It gives you a lot of courage. I look at them when I am depressed, hopeless or when something has happened. Then I start to think what would they say or do when they face similar situations. Their influences encourage me to face situations. It is always very helpful in your endeavours to have a role model.
Q: What are your thoughts on Asian women becoming leaders to serve their communities?
I have seen many strong women in Asian countries working in science, politics, medicine and other fields. But it seems to be a little hard for women in Asia to get leadership roles in Lions. In Sri Lanka, we have fewer women than in many other parts of the world. First, they need to become members and then develop their skills to become leaders. But I have seen there is a lower number of women in some clubs; perhaps those clubs are not attractive enough for women or women are entrusted with some other tasks. For example, in India not many women are given opportunities in decision making as they are the minority.
Q: What is your message to young women who aspire to become leaders?
I strongly believe that their voices need to be heard as they are hailing from different backgrounds and have different experiences and ideas. We want to promote new ideas and put them together to have more projects to serve the people. Those women leaders need to be encouraged, instil confidence and to motivate them to serve themselves and also improve the living standards of their communities.
Q: How do you see the future of services rendered by the Lions in 10 years' time?
Since we are constantly changing, we have long-term plans to meet our goals in the future. We need to do a lot of things to improve our services to share our stories. We will be more concerned to have gender balance in membership and leadership in the organisation to make a difference in decision-making in our service projects. Then we will be more attractive to get more women and younger members to the organisation to serve the needy.