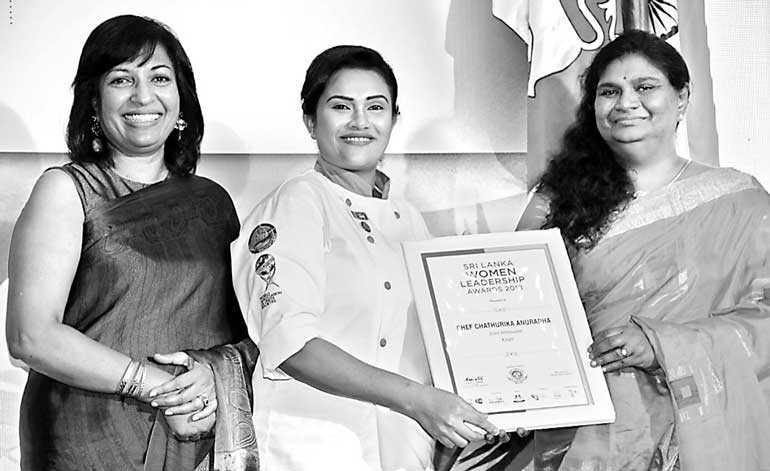 Knorr Chef Chathurika, has recently won the 'Women's Leadership Excellence Citation' at the Sri Lanka Women's Leadership Awards held at Hotel Taj Samudra, in a personal victory for her and as a notable endorsement of the strength of the Knorr brand.

The Sri Lanka Women's Leadership Awards recognise and appreciate the profound role played by women as leaders and decision makers in shaping the future of the region and nation, and who embody the qualities of leadership in displaying active, creative, and integrative efforts in achieving the best possible results in the national and regional development plans. It is not so easy to win let alone get nominated for these awards.

Expressing her delight on winning the award, Chef Chathurika said, "I feel honoured to win the highly prized 'Women's Leadership Excellence Citation'. I am humbled that my association with Knorr and my love for cooking has brought me this accolade. It gives me immense pleasure to share my recipes with other mums – recipes made all the more special and delicious with the Knorr surprise! Knorr is an inspiration to make every meal even more flavourful!"

Chef Chathurika is a qualified Chef from the Win-Stone School of Culinary Art with over 10 years' experience in the culinary field. Chef Chathurika has been closely involved with Knorr's research and development initiatives, contributing to develop some products that are unique to Sri Lanka. Inspired by Knorr, she has applied her learning to develop easy and convenient Knorr products for the busy mothers of today. She has a host of followers for her YouTube videos where she shows how she brings a surprise twist to everyday dishes with Knorr. Chef Chathurika's mouth-watering recipe ideas using Knorr products has inspired many mothers to add a surprise to daily dishes and absolutely delight her families and friends. Chef Chathurika has also contributed to publish a Knorr cookbook with easy-to-make recipes. Her triumph at these prestigious awards reflects Knorr's popularity as a trusted brand.

Knorr is a household name in Sri Lanka and Chef Chathurika has contributed significantly to popularise the brand in the country. For the past 175 years, Knorr has been led by the philosophy that good food adds meaning to our lives through an intrinsic sense of fulfilment and happiness. In the heart of Knorr lies 'chefmanship' with a vision to empower home cooks to create expert recipes. Knorr believes in helping mothers to transform their everyday meals into extra-ordinary dishes. As culinary pioneers and guardians of taste, Knorr Chefs go to extraordinary lengths to find the best ingredients to develop products and recipes families the world over can enjoy.