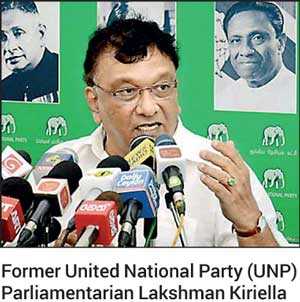 Former United National Party (UNP) Parliamentarian Lakshman Kiriella has questioned why the Sri Lanka Navy and armed forces were deployed for COVID-19-related operations when they were not adequately trained, and criticised the Government for not providing sufficient protection gear and other support.

The former Opposition Whip and senior United National Party (UNP) member raised the issue at a press conference held in Colombo on Wednesday (20 May).

Kiriella questioned why the Navy was deployed for COVID-19 operations when they were not trained to handle an epidemiological situation. Sri Lanka is the only country in the world that has deployed armed forces for COVID-19-related operations, even though they are not trained for the task, he charged.

Further, Kiriella alleged that the Navy personnel deployed for the COVID-19-related duties were not provided adequate personal protective equipment (PPE) to ensure they were safe.

The veteran politician pointed out that the due to the Parliament being resolved, these questions could not be raised with the Government, and urged the Government to explain why armed forces were deployed in such a manner.