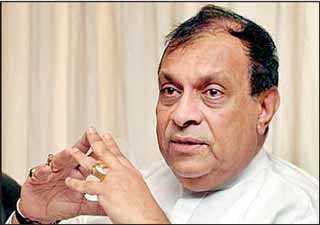 Karu Jayasuriya
---
National Movement for a Just Society (NMJS) Chairman Karu Jayasuriya in a statement yesterday welcomed the expansion of the area of the Sinharaja Forest Reserve.
"We commend former President Maithripala Sirisena for taking a significant step towards the conservation of the Sinharaja Forest Reserve, one of Sri Lanka's most valuable natural resources. The Sinharaja Forest Reserve is considered to be one of the most valuable areas of primary tropical rain forests in the world and one of great ecological significance," Jayasuriya said.

"However, in recent years, the Sinharaja Forest Reserve has been limited to about 11,000 hectares. A gazette signed by former President Maithripala Sirisena, who also served as the Minister of Environment, on 11 November 2019 to expand the Sinharaja Forest Reserve to 36,474.93 hectares, is cause for immense pleasure for all those who love nature.

"If the addition of another extensive patch of land to the Sinharaja Forest Reserve in this manner was to create any repercussions with regard to the livelihoods and housing requirements of the people in surrounding areas, we are confident that the Government will do justice to all of them and ensure the conservation of the environment, as well as the well-being of the people who may be affected by this," said Jayasuriya.

Jayasuriya also expressed confidence of receiving foreign aid to mitigate such negative repercussions.

"At the same time, it is very important for us to direct the country's attention towards a special observation made by the former President with regard to the publication of this gazette notification. The former President said that he had signed an additional 65 gazette notifications during his tenure for the protection of the environment in Sri Lanka which have not been published so far. Since the incumbent Minister of Environment has also taken a keen interest in this matter, we sincerely hope that the remaining gazette notifications will be published forthwith to protect the environment," Jayasuriya said in his statement.