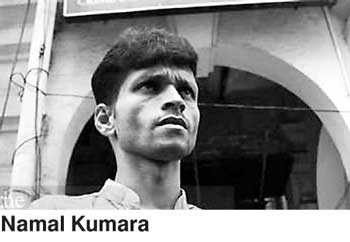 By Nuwan Senarathna

As the assassination plot drama took different twists, the Joint Opposition yesterday called on the Government to increase security detail provided to members of the Opposition.

"Namal Kumara revealed more information related to the alleged assassination attempt. According to him, Tamil and Muslim leaders were also targeted in this plot. It is clear that this is an attempt to create instability in the country's political arena," MP Kanchana Wijesekara said while speaking at a press conference.

He pointed out that Sri Lanka has experienced conspiracies throughout its history leading to uncertainty in the county.

The MP said the level of security provided to former President Mahinda Rajapaksa prevented possible threats to his life. He also accused the Government of changing the security personnel assigned for the protection of Mahinda Rajapaksa. "We feel the Government should provide protection to Namal Kumara as well. He has all the evidence connected to the alleged assassination attempt. We are not satisfied with the way investigation is being carried out. As the Joint Opposition, we demand that the authorities arrest the people who are involved in this," he added.

He also went on to say that the level of security in the county has been compromised and that in order to curb the situation, the Government should take the claims of Namal Kumara seriously.