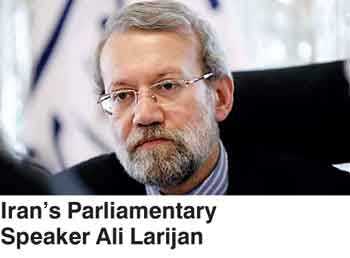 Teheran: Iran's Parliamentary Speaker Ali Larijani, heading a delegation, will visit Sri Lanka this week following a visit to Vietnam to discuss bilateral and international issues, particularly the Syrian situation after the recent US-led strikes.

Ali Larijani and his delegation left Teheran for Hanoi yesterday (16 April), and his visit to the Vietnamese capital will last until Tomorrow (18 April), following which he and the delegation will visit Sri Lanka.

Speaking to reporters before departure, Larijani said the aim of his visits is to expand bilateral relations in various fields, and to promote parliamentary cooperation with the two countries, MEHR News Agency reported today.

"One of the key issues to be discussed with Vietnamese and Sri Lankan officials is the Syrian situation," Larijani said.

"Because, to our utter surprise, international mechanisms were all ignored in the attack, which can cause adverse consequences for future conflicts. Therefore, it is needed to talk with officials of Vietnam and Sri Lanka on this issue and hope that the talks would be helpful for establishing peace in the international scene," Larijani was quoted as saying.
---
Iran Parliament approves extradition treaty with Sri Lanka
Teheran: Iranian lawmakers have ratified a bill on an extradition treaty between Iran and Sri Lanka on Sunday, according to a report by Mehr News Agency.

Under the terms of the bill, the extradition treaty between Iran and Sri Lanka was passed and it will allow for exchange of convicts and the related documents. According to an Iranian lawmaker, Hassan Norouzi, at least 15 Iranian prisoners are being kept in Sri Lankan prisons while three Sri Lankan nationals are also jailed in Iran. The MPs also said that they put the bill on its agenda due to the forthcoming visit of Parliament Speaker Ali Larijani to Sri Lanka.