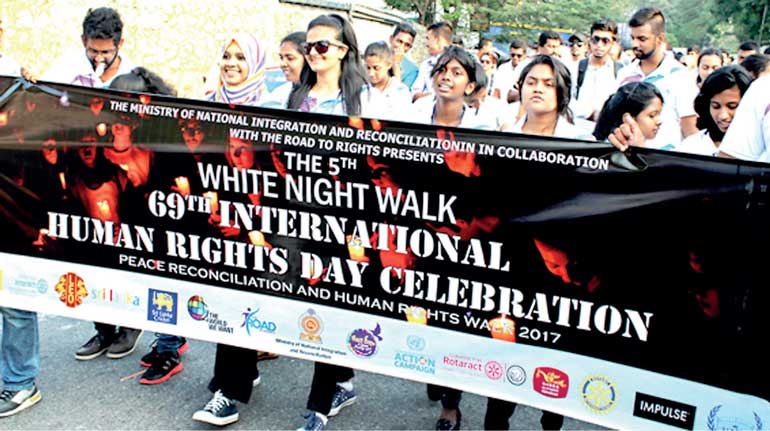 The Ministry of National Integration and Reconciliation, with the support of the Youth Leaders' Forum, organised a Peace, Reconciliation and Human Rights Walk on 10 December, a day which is globally identified as International Human Rights Day.

The Universal Human Rights Declaration was adopted at the UN General Assembly by all member countries on 10 December 1948 and Sri Lanka also celebrated this day at Independence Square through a walk which included over 2,000 participants comprising schoolchildren, youth, women, prisoners, Sunday school religious teachers, community police and other Governmental and Non-Governmental representative, said Ministry of National Integration and Reconciliation Secretary V. Sivagnanasothy.

After the walk a gathering took place at Independence Square where A.H.M. Fowzie - State Minister of National Integration and Reconciliation; Thilanga Sumathipala - Deputy Speaker, Dr. Harsha De Silva - Deputy Minister of National Policies and Economic Affairs, Angajan Ramanathan - Member of Parliament, Secretary Sivagnanasothy; Dr. Deepika Udagama - Chairperson, Human Rights Commission and other special dignitaries were present.

The message conveyed not only included standing for your rights but also standing for the rights of someone else. Values such as dignity, liberty, equality, freedom of movement, constitutional liberties, peaceful assembly, freedom of access to basic services, freedom of speech, protection from arbitrary arrest, prevention of disappearances, etc. were discussed at length.

The event also included a food festival which brought integration of multiethnic, multicultural, multi-religious societies through different food stalls and the event also included an exhibition on products and services offered to conflict-affected communities and Human Rights-related servers. Sri Lanka has developed a National Action Plan on Human Rights which has been approved by the Cabinet said Sivagnanasothy.

The walk also strongly advocated unity in diversity, respecting multiethnic and multicultural societies and initiating reconciliation and peace-building efforts to ensure sustainable peace.

The forum also included Sustainable Development Goals (SDGs) which focused on the rights to safe drinking water and sanitation, access to education, access to health services, access to decent jobs and access to equality, all of which are human rights-oriented and are built into the SDGs and forums as an integral part of Vision 2025 of the National Development Agenda.