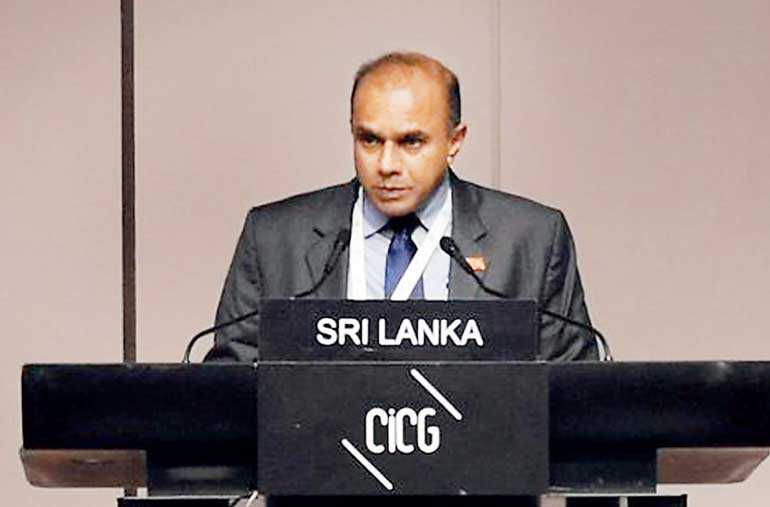 Addressing the 139th Session of the Inter-Parliamentary Union (IPU) General Debate on 16 October, under the theme 'Parliamentary leadership promoting peace and development in the age of innovation and technological change', Deputy Speaker Ananda Kumarasiri stressed that ICT has revolutionised the work of the Parliament of Sri Lanka, bringing the parliamentarians and the parliamentary processes closer to the people.

Leader of this year's Sri Lankan delegation to the IPU session, Deputy Speaker Ananda Kumarasiri spoke on the role of science and technology in the implementation of the 2030 Sustainable Development Agenda. He emphasised the need for development strategies to be responsive by taking into account the opportunities and challenges arising from new technologies such as nanotechnology, biotechnology, artificial intelligence, and space technology. Harnessing these technologies would be crucial to achieving sustainable development, said Deputy Speaker Kumarasiri.

In Sri Lanka, the Deputy Speaker stated, the Government of Sri Lanka through its 'Vision 2025' provides a policy framework to develop strategies that encourage the use of digital and other modern technologies, which could help Sri Lanka become globally competitive and drive the nation towards a digitally empowered economy. He further elaborated on the recent initiative 'Enterprise Sri Lanka', a socio-economic advancement program that includes among its objectives the development of technology and technical and managerial skills, given that this has been identified as an important constraint affecting SME and micro sector development.

Highlighting the key role that women could play in economic development, including through participation in decision-making, the Deputy Speaker stressed that ICT could have a significant impact, enabling women's empowerment and gender equality.

The Sri Lanka delegation to the IPU Assembly comprised Transport and Civil Aviation Minister Nimal Siripala de Silva, State Minister of Tourism and Christian Affairs Ranjith Aluvihare, Members of Parliament K. Thurairetnasingam and Prasanna Ranatunga and Secretary General of Parliament Dhammika Dasanayake.

Permanent Representative to the UN in Geneva Ambassador A. L. A. Azeez, Deputy Permanent Representative Samantha Jayasuriya, and Minister Counsellor of the Permanent Mission Shashika Somaratne, facilitated the program of visit, and were associated with the delegation at the meetings held.

The delegation held bilateral discussions with IPU Secretary General Martin Chungong on the sidelines of the IPU Assembly.