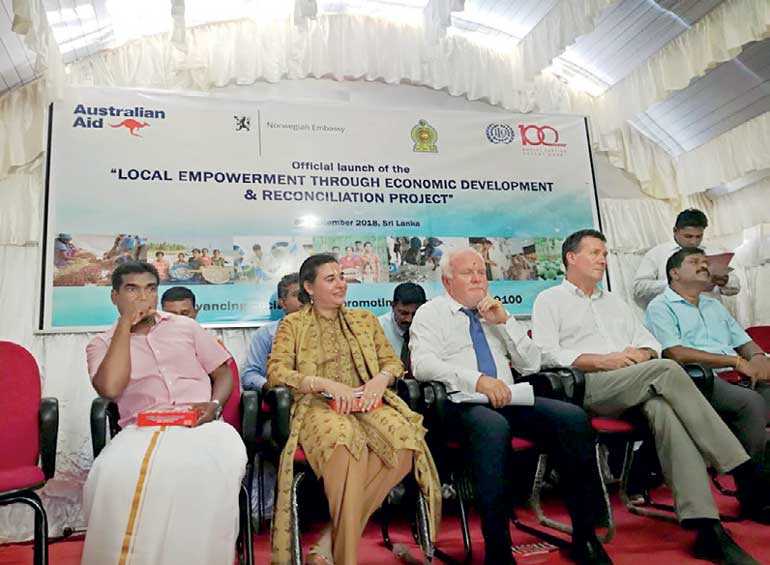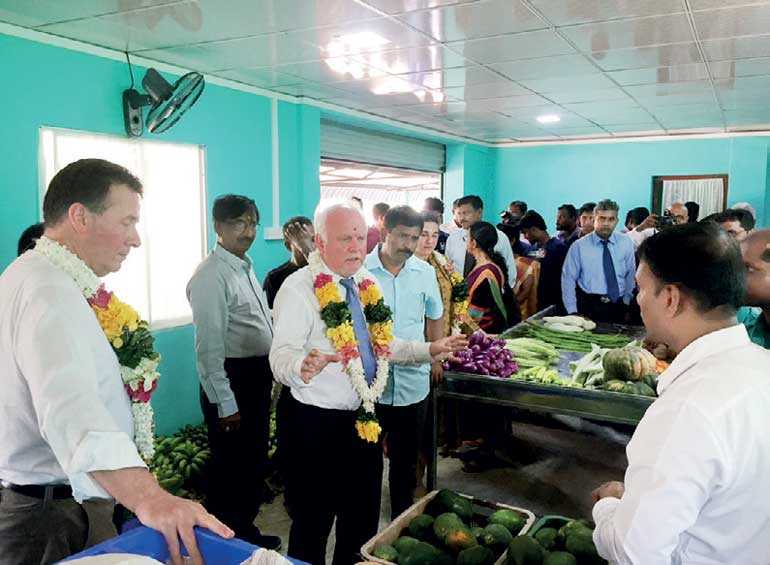 The International Labour Organisation (ILO) yesterday scaled up its flagship "LEED+" (Local Empowerment through Economic Development and Reconciliation) project on 5 September, at a launch event in Mullaitivu district. This new phase aims to promote inclusive growth strategies for conflict-affected communities in the Northern and North-Central provinces, building on over six years of work by the ILO.

This initiative has been made possible through joint funding from Australia's Department of Foreign Affairs and Trade, and the Royal Norwegian Embassy in Sri Lanka. The collaborative spirit is mirrored in the core objective of the project, which is a concerted four-year effort to generate decent livelihoods for conflict-affected communities, with a particular focus on women in vulnerable situations and persons with disabilities.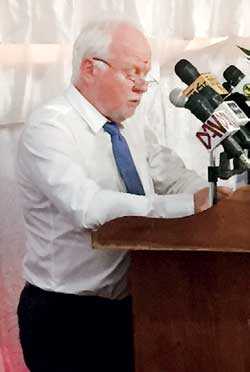 The official project launch was graced by Australian High Commissioner Bryce Hutchesson, and Norwegian Ambassador Thorbjørn Gaustadsæther, attending as chief guests. Northern Provincial Minister of Agriculture and Agrarian Services, Animal Husbandry, Irrigation, Fisheries, Water Supply and Environment Kandiah Sivanesan, as well as provincial, district and divisional representatives from the Government of Sri Lanka, attended as guests of honour. The Udayarkattu Farmers' Cooperative Society, Mullaitivu hosted the event, which included the official inauguration of its primary fruit and vegetable processing centre – itself a result of LEED support.

The LEED project has a rich history in the Northern Province, having commenced in 2011 with funding from the Governments of Australia and Norway. It has been a case-study for economic empowerment of the poor through the ILO's livelihoods approach, with many lessons for job creation and income generation in the rural economy, particularly in the fisheries and fruit and vegetable sectors. Through its emphasis on value chain development, the inclusion of vulnerable women and persons with disabilities, and its facilitation of policy-level interventions, the LEED project has played a pivotal role in the region's post-conflict recovery.

As in its earlier phase, the new LEED+ will mobilise a range of collaborations and partnerships across the private and public spheres, working with grassroots level producer organisations, including cooperatives, public and private sector partners, the National Chamber of Exporters, the National and Provincial Chambers of Commerce, the National Seafood Exporters Association, the Employers' Federation of Ceylon, trade unions, and the Government at national and provincial levels.

ILO Sri Lanka and the Maldives Country Office Country Director Simrin Singh expressed her excitement in rolling out LEED+: "The project approach is pragmatic, conflict-sensitive, and ultimately aimed at empowering local farming, fishing communities, producers organisations, and small and medium enterprises so that they can both benefit from, and participate in, the post conflict development of Sri Lanka. Building resilience, achieving scale, and ensuring sustainability is at the heart of this work."

High Commissioner Bryce Hutchesson noted that Australia is pleased to be continuing its successful partnership with the ILO. He commended the impressive results achieved through LEED since 2011, providing sustainable livelihoods opportunities for men and women in the Northern Province. "Far-reaching social and economic change demands innovation, focus and persistence. It can be difficult to achieve, and slow. But LEED has demonstrated what can be achieved," he added.

Norwegian Ambassador Thorbjørn Gaustadsæther was pleased to see that Norwegian support through ILO has been used effectively and efficiently to assist conflict-affected households in achieving sustainable livelihoods. "We believe that linking with the private sector is essential for market expansion and is key to sustainability." Highlighting the ILO's strategy of a value addition approach, he underscored how, "increasing the value of the primary products by establishing fruit and fish processing factories will create more employment, and successfully retain wealth in the region."

The LEED project is part of the ILO's global Jobs for Peace and Resilience program, which focuses on employment generation, especially for young people in conflict-affected and disaster-prone countries. The project is closely aligned with the Government of Sri Lanka's vision for sustainable social and economic development.

LEED+ is also central to achieving the goals of the ILO in Sri Lanka's Decent Work Country Program 2018-2022, and is aligned with the United Nations Sustainable Development Framework (UNSDF) 2018-2022 for Sri Lanka. At its very core, LEED+ is a quintessential ILO effort, given its ultimate aim of creating decent, inclusive and sustainable jobs, and ensuring the empowerment of conflict-affected communities in the process. As the ILO celebrates 100 years in service of social progress in 2019, the launch of LEED+ represents another significant milestone in its 70-year partnership with Sri Lanka.