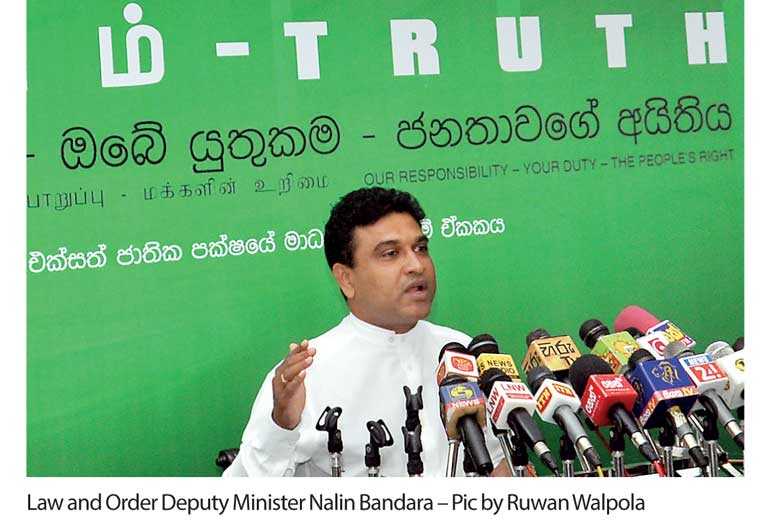 Minister, Deputy Minister and IGP to visit Jaffna
Bandara says rampant drug use root cause of violence
By Maleesha Sulthanagoda

Law and Order Deputy Minister Nalin Bandara yesterday said that in an effort to address the increasing rate of violence in the North, top law enforcement officials including him, his deputy and the Inspector General of Police (IGP) would visit Jaffna this week.

He noted that the recent arrests of armed gangs had helped in slightly reducing violence but acknowledged that additional steps were needed.

"The situation in the North is that there is a slight increase in armed gangs in Jaffna. The Counter Terrorism Unit is also on high alert as a result of these developments during the past few months. We also cancelled the holidays of most police officers in Jaffna and surrounding areas because we carried out raids on armed groups in the past month. This helped us to reduce the threat for the medium term," he said.

He also noted that top officials from the Law and Order Ministry and the Police had organised a visit to Jaffna on Thursday to engage in discussions relating to this issue.

"In the coming days, Law and Order Minister Ranjith Madduma Bandara, IGP Pujith Jayasundara and myself will be going to Jaffna. We expect to visit all police stations and other related organisations to hold discussions regarding the issue of increasing violence. We also hope to express views on what needs to be done, the resources they need to carry out operations and the support needed to carry them out," he added.

The Deputy Minister also spoke on the success of ongoing operations to reduce the spread of heroin, mentioning that the raids conducted were among some of the largest in recent history.

"The Police Narcotics Bureau succeeded in the largest heroin bust in the country's recent history. The officers managed to secure Rs. 1,250 million worth of heroin and managed to secure another 4 kg in Katunayake a few days later," he said.

Deputy Minister Bandara also noted that all of the recent narcotics and firearm busts pointed to higher success rates than last year.

"In 2018, the authorities secured over 335 firearms including pistols and revolvers, 7,375 rounds of ammunition, 2,721 kg of Kerala Ganja, 11 kg of cocaine and a kilo of hashish. They are currently engaged in ongoing operations which have proven to be fruitful," he elaborated.

"We have a few ideas to put into action. We might also have to introduce new prison rules too. One of the major operations we are looking at is assigning police officers and army officers as prison security. We might also have to impose restrictions on mobile-based cash transfer methods," he said.