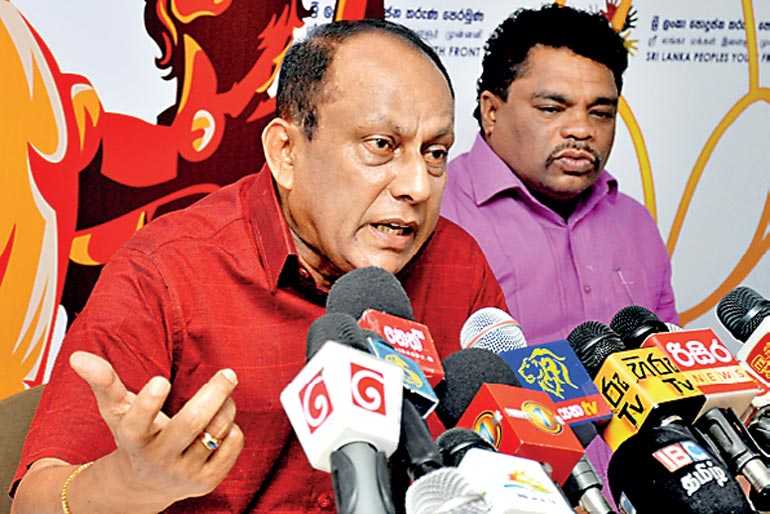 MP Lakshman Yapa Abeywardena and MP Piyal Nishantha participate in the press conference held at the Nelum Mawatha SLPP Head Office yesterday
– Pic by Lasantha Kumara
---
By Nuwan Senarathna

The Sri Lanka Podujana Peramuna (SLPP) yesterday said that holding both Presidential and General Elections at once could not be practical, and advocated they be held on different dates.

"Presidential Election and General Election are two different tasks, and there are lots of practical challenges as well. Therefore I don't see that as possible," MP Lakshman Yapa Abeywardena told reporters at SLPP headquarters.
He noted the Presidential Election would have to be called by the end of 2019, as President Maithripala Sirisena was informed when he sought the opinion of the Supreme Court on whether he can continue in office until 2021. Moreover, he pointed out that the General Election could not be held by February 2020 according to the Constitution, as the President cannot dissolve Parliament before the completion of four and a half years, which raised concerns over the practicality of holding both elections on the same day.

"The next Presidential Election would have to be announced in November 2019, and the new President appointed by January 2020. Only after that can the newly-appointed President dissolve Parliament by February, which means whatever the Government is saying is yet another impractical task," he added.

Following his assumption of duties on 21 December, Minister of Internal Home Affairs and Provincial Council and Local Government Wajira Abeywardana told media that Government would try to hold both the Presidential Election and General Election on the same day.

Meanwhile, Abeywardana criticised Prime Minister Ranil Wickremesinghe's speech in Parliament, where he criticised several media organisations and insisted legal action be taken against them.

According to Abeywardena, Wickremesinghe's speech was a threat to media freedom.

"Prime Minister Ranil Wickremesinghe is trying to constrain media freedom, which was one of the election promises in the 2015 General Election. Unfortunately, the very people who promised to establish media freedom are trying to threaten journalists today," he added.

Abeywardana pointed out that politicians cannot stay away from media and they should have respect for journalists. "Journalists are reporting a statement made by someone else. Therefore, if Prime Minister Wickremesinghe wishes to take legal action he should have done that against the person who made statements to media."

Wickremesinghe criticised several media organisations on 22 December, over reporting names of MPs who were not included in the list sent to President Maithripala Sirisena proposing Cabinet portfolios.