High Commissioner of Britain James Dauris paid a visit to Muslim Aid Sri Lanka's field office premises in Muthur, Trincomalee. As a British-based relief and development agency, Muslim Aid welcomed the envoys as a show of solidarity with the British High Commission and presented the organisation's staff and Muslim Aid's role in Sri Lanka to the delegation. The meeting was arranged during the High Commissioner's official visit to the Eastern Province of Sri Lanka on Monday, 1 July.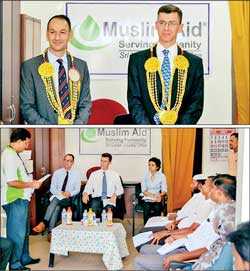 The assembly served as a platform to highlight some of Muslim Aid's important work and its commitment to the Global Sustainable Development Goals (SDGs). The High Commissioner was accompanied by Colonel Ashman, the Defence Adviser to the British High Commission and Jovita Arulanantham, Political Officer at the British High Commission. Muslim Aid's stakeholders, including beneficiaries, partner organisations' representatives and community and faith leaders, offered their testimonies and reviewed activities and challenges faced by Muslim Aid in the new context of renewed tension in the country. They discussed how the organisation is looking to revive social cohesion and reconciliation in the country, through peacebuilding and co-existence programs.

Muslim Aid's staff highly appreciated the time set aside by the High Commissioner of Britain to visit their field office, and were inspired by his encouraging closing remarks at the end of the session.

Muslim Aid is a British relief and development agency working in more than 20 countries with 12 Country Offices. The Sri Lanka Country Office was established in 2005 in the aftermath of the Tsunami in 2004. Muslim Aid Sri Lanka (MASL) provides humanitarian assistance to disaster-affected communities; helping them overcome poverty. Muslim Aid works with all communities irrespective of faith, ethnic origin or political affiliations.