Says video and photos in question from 2015
False allegations at election time to discredit him, influence voters
Lanka Muslim Congress (SLMC) Leader and Minister Rauff Hakeem yesterday refuted allegations levelled at him, linking him to Easter Sunday attacks mastermind Zahran Hashim, saying it was part of a conspiracy to discredit him and influence the upcoming Presidential Poll.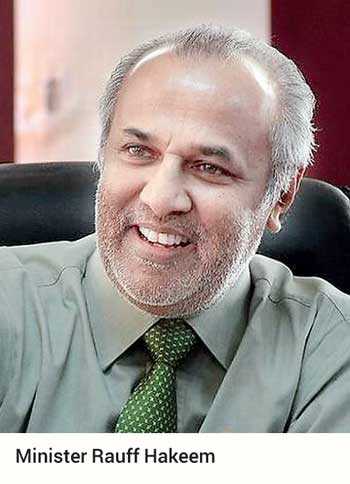 Hakeem told reporters at a press briefing that photographs and a video being circulated, showing him in the company of Zahran, was taken in the aftermath of the 2015 Parliamentary Elections, and were now being shown to damage the Presidential Election campaign of DNF candidate Sajith Premadasa.

"This is a low and disgusting act. This is an attempt to show that I am a supporter of Zahran, and that I am supporting Sajith Premadasa. This is part of a conspiracy to discredit me and mislead innocent Sinhala voters," Hakeem said.

He alleged that one of those in the photographs is a SLPP politician, who is now working to bring Gotabaya Rajapaksa to power.

He added that in 2015, no one was aware of Zahran or his group being involved with terrorism. "As politicians we meet all kinds of people. They come and talk to us about their problems and take photographs. I am not aware of the identity of each and every one of them," he added.

Yesterday morning, Hakeem also made a statement to Parliament clarifying his position, and added that he has always stood against extremism.