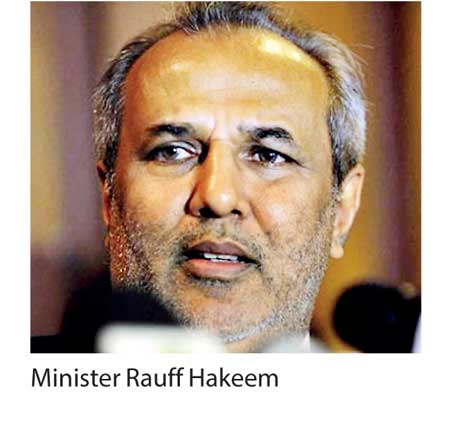 By Ashwin Hemmathagama – Our lobby Correspondent

The Police Department took a verbal beating in Parliament yesterday for allegedly failing to execute their duty fairly and effectively in Ampara during the past two weeks.

Making a statement under 23(2) of the Standing Orders, City Planning and Water Supply Minister Rauff Hakeem was critical of the alleged lethargy of the Police compared to certain incidents in other parts of the country where prompt action had been taken.

"Although the Police imposed curfew to control the situation, things have not settled. The situation in Ampara created the possibility of two ethnicities clashing. I commend the Government for taking action to stabilise peace and control the situation. The police have changed their reports to the courts highlighting that it was not an ethnic clash but an escalation of a private disagreement. The police has also removed the fact that all this violence was partly unlawful assembly. The police has taken sides and failed to execute their duties fairly and effectively in Ampara," the Minister said.

Commenting on the basis for the violence launched against Muslims, the Minister stated that it was nothing more than organised crime. "Even though from the outer periphery it seems that violence is against the Muslims, in the centre there are many bad intentions. The Digana incident, which took place at a filling station, led to the death of a Sinhalese youth. Four Muslims were arrested for this crime. The final rites of the Sinhalese youth took place on Monday. But some people went to the funeral and started organising violence there. Private property, including houses, shops and vehicles were damaged in addition to mosques," he said.

"Soon after the local government elections came to an end, a wave of violence has started – especially in the Ampara and Kandy districts. Attacks on religious establishments and damaging private property has been part of this issue. These are not just isolated events but well-organised activities by certain individuals or a group to destabilise and discredit the Government. The most recent of these unfortunate incidents took place on 5 March in Digana and Teldeniya. This is nothing but organised gangs visiting these places and spreading violence," he added.