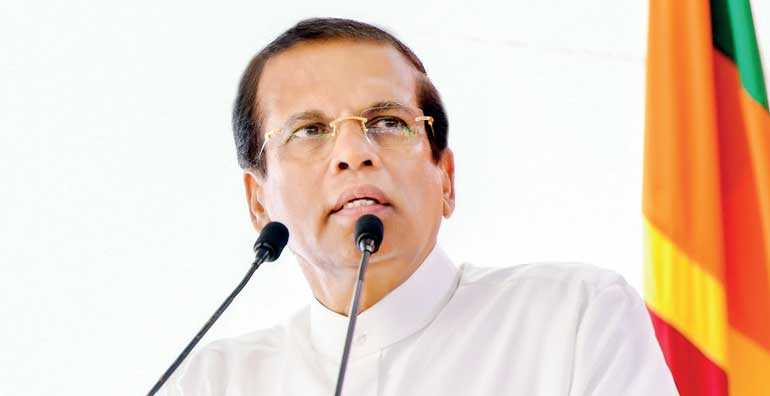 President Maithripala Sirisena
President Maithripala Sirisena on Saturday assured that he would not change the decision taken by the Government to implement the death penalty for drug smugglers under any circumstance, despite the objections raised by some factions against the move.

He expressed these views while addressing a ceremony held in Polonnaruwa, commencing the construction of the National Nephrology Hospital.

Referring to a newspaper report that the Government had changed the decision, the President stated that the Government has not reversed the decision and will take necessary steps to carry out capital punishment for drug smugglers.

The President said he would summon the heads of the fields of judiciary, prisons, and law and order tomorrow to appoint a committee in this regard.

"This committee, which will consist of representatives of all the relevant fields, would make decisions about the convicted personnel who should be executed," he said.

The construction works of the National Nephrology Hospital in Polonnaruwa, which is a gift from China, commenced on Saturday under the patronage of President Maithripala Sirisena.

This new hospital is being built as the largest kidney hospital in South Asia at a cost of Rs. 1.2 billion, fulfilling a long-term aspiration of the President to provide services for kidney patients.

The Hospital would be a great asset and a gift to the people of Sri Lanka, not only for those living in the North Central Province, but also in other areas. The project includes state-of-the-art equipment and all necessary facilities for kidney patients.

The Hospital consists of a 200-bedded ward complex, an OPD with 100 dialysis machines and six modern operating theatres.

A 200-seated auditorium, a car park, which has 300 parking slots, and residential facilities for hospital staff will also be included in this hospital.

The project is expected to be complete within 24 months and will be fully functional by July 2020.