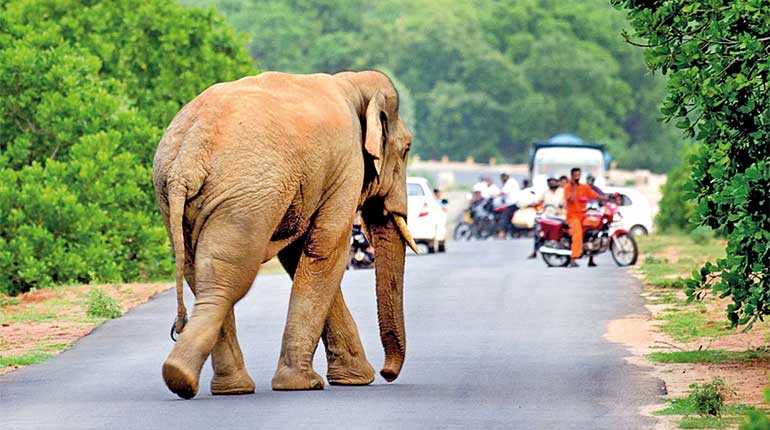 The Department of Wildlife Conservation has taken steps to recruit 2,500 Civil Defence personnel as part of a solution to resolve the human-elephant conflict.

The Cabinet approval has been granted for the proposal to recruit the Civil Defence personnel as a measure to resolve the long-term issue affecting people's lives and livelihoods.

It is reported that around 80 human lives and 250 lives of elephants are lost annually due to the human elephant conflict prevalent in Sri Lanka. Last year, the lives of 114 humans and 386 elephants were lost.

Out of the 386 elephant deaths, only 37 were due to natural causes. The last year's death toll was the highest figure of elephant deaths to be reported since Sri Lanka became independent in 1948, conservationists said.

It is estimated that there are about 7,500 wild elephants in Sri Lanka.

The Wildlife Department says elephant deaths are on the rise after 2015. In 2016, 279 elephants died and 88 human lives were lost. In 2017, 87 people lost their lives and 256 elephants died. In 2018, 96 human lives were lost and 319 elephants were killed.

In addition to the lost lives, it has also been identified that a considerable economic loss is caused to the country as a result of the damage caused to property and crops by the elephants.

As a measure to prevent this situation, steps have been taken to recruit 2500 Civil Defence personnel and issue 500 firearms. Eight officers will be given five firearms each to scare away the elephants.

The first phase of the program was launched at the Kekirawa, Horapola, Moragollagama Temple yesterday under the patronage of the Minister of Environment and Wildlife Resources S.M. Chandrasena.

In addition, a plan is in place to build a strong elephant fence with Chinese aid to remedy the human-elephant conflict.

A proposal made by the Minister of Environment and Wildlife Resources to set up regulatory committees at rural, divisional, district and national level with the representation of Government officers was approved by the Cabinet. These are to take necessary action to minimise and control the human elephant conflict and provide instructions to the relevant District Secretaries and Divisional Secretaries in that regard through the Secretary of the Ministry of Public Administration, Home Affairs, Provincial Councils and Local Government.