The National Economic Council (NEC) this week decided to revisit all investment projects planned to prepare a priority list for implementation, Dr. Sarath Amunugama told Daily FT.

"After what happened in the elections, we all felt that we needed to reconsider investments and figure out what should be our long-range investments, short-range investments and midterm ones are going to be," Dr. Amunugama said. "We need to come up with the correct mix of investments."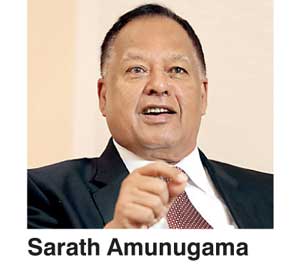 The Government will then decide on the order of priority for investments. The discussion focused on drawing up a priority project, acknowledging upcoming elections following the recent election defeat faced by two main coalition parties at the recently concluded Local Government Elections.

The discussions are still at a very preliminary stage and will continue in next week's NEC as well, Dr. Amunugama said.

The NEC, headed by President Maithripala Sirisena is to make the final decision on the priority list, he said.

The cancelation on the Rs. 4 billion worth Tab project by the Education Ministry was also in line with this, Cabinet Co-Spokesperson Rajitha Senaratne said at the cabinet press briefing held yesterday.