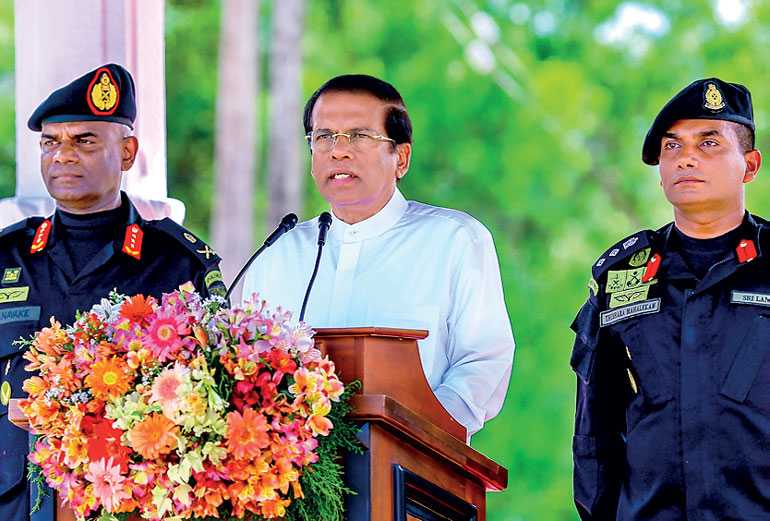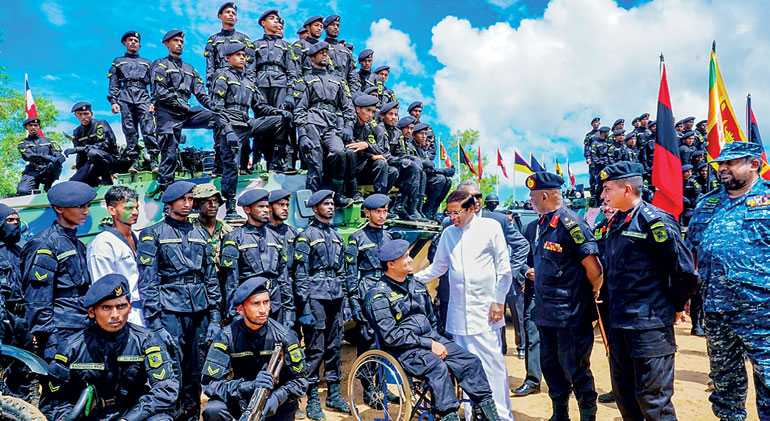 President Maithripala Sirisena says the Government will take every possible action to provide facilities for the brave war heroes who have fulfilled their duties towards their motherland.

He made these remarks while participating as the Commander in Chief at the passing out parade of Maduru Oya Special Forces Training School (SFTS) yesterday (9 April). Seven officers and 189 other rankers, who had successfully completed the Special Forces (SF) Basic Training Course at SFTS, passed out.

The occasion was coloured by parachute jumps, scintillating performances and band displays.

W. M. K. R. Wanigasooriya was selected as the best-performing student and the best physical activity student, while Lieutenant E. M. P. D. Ekanayake was selected as the best shooter, receiving awards from the President.

Addressing the gathering, President Sirisena said that security forces should not only be armed with firepower, but should also be knowledgeable, skilful and creative. The President said that he will provide every possible comfort and privilege in order to fulfil that.

A Na sapling was planted in the SFTS premises in Maduru Oya to mark the visit by President Sirisena.

Defence Ministry Secretary Kapila Waidyaratne, Chief of Defence Staff Admiral Ravindra Wijegunaratne, Commander of the Sri Lanka Army Lieutenant General Mahesh Senanayake, Commandant of the SFTS Colonel M. T. U. Mahalekam, and other officials joined this event.

Later, the President attended the opening of the newly constructed building at a Catholic Church in the Maduru Oya fisheries village.

The building was constructed at a cost of Rs. 6 million, the provisions for developing religious places falling under the 'Pibidemu Polonnaruwa' District Development Project.

The President paid attention to several issues regarding the housing facilities and problems of people in the fisheries village, and he further said that he will take actions to solve these problems.

The President instructed the officers to inspect and fulfil the educational problems of children, health issues and other welfare needs.

Priests in the area and others joined in this occasion.