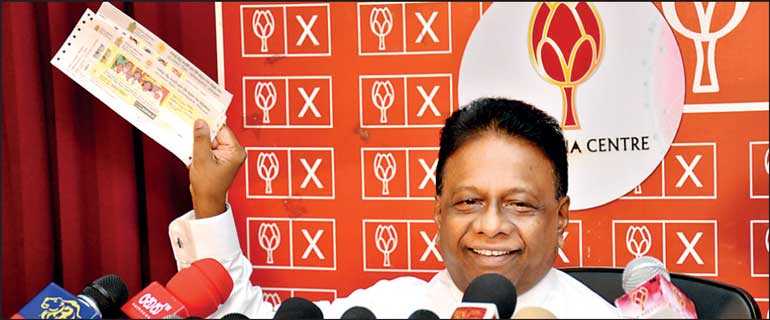 Education Minister Dullas Alahapperuma - Pic by Lasantha Kumara
---
Recruiters to undergo special training
Appointments will be made based on qualifications with prominence given to fill teaching vacancies
Method for online application will be introduced
Government to increase National Schools to 500 in 90 days, increase to 1000 planned
By Nuwan Senarathna

The Government has decided to recruit 50,000 unemployed graduates for public service before 1 March on the instruction of President Gotabaya Rajapaksa, Education Minister Dullas Alahapperuma said yesterday, adding that preliminary work has already commenced.

Speaking to media at the Sri Lanka Podujana Peramuna (SLPP) head office, Alahapperuma said the process of recruiting graduates was in the pipeline and that those recruited will be undergo special training before being appointed.

"President Gotabaya Rajapaksa instructed the Cabinet to expedite the process of recruiting all unemployed graduates. They are qualified individuals, therefore their qualifications can be used for the development of the country. As a Government we will use their capabilities for the betterment of the nation," he said.

The appointment will be made based on the stream of the degree the applicant has followed so as to appoint best suitable individuals for vacant positions in State institutes, Alahapperuma said. He noted the Government would setup an online registration system to apply for jobs to avoid any political interference for the recruiting process.

"This will be a new process and no one will have to go behind politicians. The President has instructed to keep politics aside and follow a transparent process to recruit all graduates. Age will not be an issue and whether they obtain the degree as an internal student or not will also not be considered for the recruitment process," he explained.

Alahapperuma said preference will be given to recruit graduates as school teachers to fill vacant positions in the areas of mathematics and English language. He noted those recruited for teaching will be specially trained prior to their appointments.

He also pointed out that the Government's move to provide 100,000 Government jobs to low income people will be implemented parallel to the recruitment of graduates. Last week, the Cabinet decided that anyone who has completed studies up to Grade Eight will be eligible to apply for the jobs. Those recruits will also undergo a special training before the appointments, he added.

In a move to improve the quality of schools, Alahapperuma said the existing 373 national schools will be increased to 500 in 90 days. The new initiative will see a number of schools reclassified to join the 'National Schools' category. The process to increase national schools will be carried out based on Divisional Secretariats to assure that each of the divisions will have at least one national school, Alahapperuma said.

"Currently there are 124 Divisional Secretariats without a national school. Under the first phase, schools in those Divisional Secretariats will be developed to the level of national schools. Within two years the number of national schools will be increased to 1000."

He opined that implementing national schools would reduce the demand for leading schools and the right to education will be assured for every student.