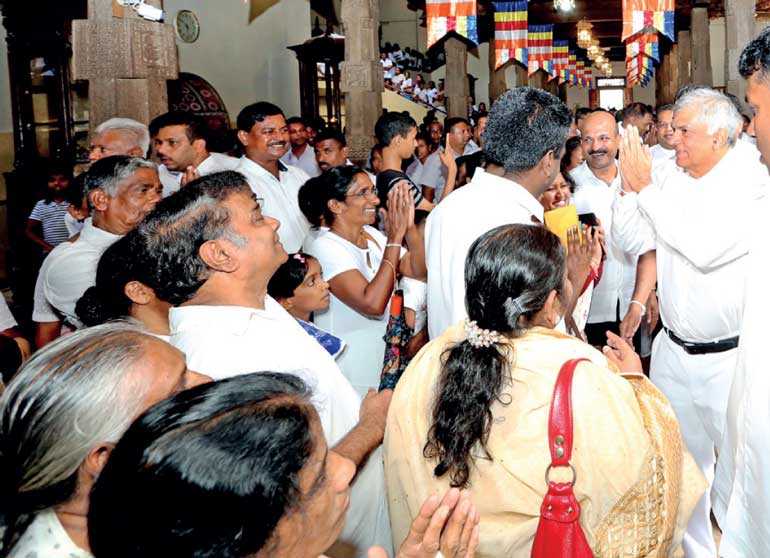 Prime Minister Ranil Wickremesinghe yesterday said the Government is to initiate a new program for the country upon the return of President Maithripala Sirisena to the country from his visit to England. Addressing the media after visiting the Sri Dalada Maligawa in Kandy, the Prime Minister said that he had met with the Chief Incumbent of the Malwathu Chapter,Thibbatuwawe Sri Siddhartha Sumangala Thero,and the Chief Prelate of the Asgiriya chapter Warakagoda Sri Gnanarathana Thero, where he explained to them the Government's future plans for the nation.

"In the new Tamil and Sinhala New Year,we first hope to encourage and strengthen peace, harmony and reconciliation. We have taken the necessary steps in this regard. We hope that our country will not be effected by adverse natural disasters in order for the country and its economy to grow and flourish," the Prime Minister said.

He went on to say that Government hoped to commence additional development projects in the coming future.

"This year we hope to receive the benefits for some of the key development projects we initiated last year. In addition, we hope to begin several other development projects in 2018 as well, while some are already in the pipeline. Once the President is back from London, our government will be implementing a new program for the nation," the Premier said.

President Sirisena is currently in London, England, taking part in the Commonwealth Heads of Government Meeting (CHOGM).