Media Ministry Secretary to chair committee

Japan to fund program, implement MoU signed in 2014

Recommendations should be submitted before 9 Feb.
The Government has decided to appoint a committee to look into the feasibility of digitising Sri Lanka's television broadcasting technology to meet international standards.
The committee will look into fast-tracking implementation of the Integrated Services Digital Broadcasting (ISDB-2) technology, which Japan is currently using for its television and radio networks.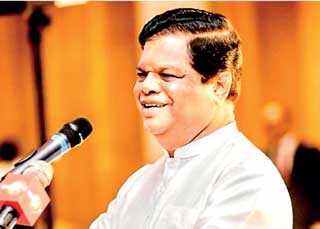 Minister Bandula Gunawardana
Issuing a statement, the Information and Communication Technology Ministry said Minister Bandula Gunawardana and the Japanese delegation recently held discussions to implement the ISDB-2 broadcasting technology in Sri Lanka.
The committee will be headed by Information and Media Ministry Secretary Chulananda Perera while experts in the field will also be part of the committee, the statement said. During the meeting, the Japanese had pointed out the importance of upgrading the country's broadcasting technology to meet international standards in order to harness the benefits of a digital broadcasting platform.
The ISDB-2 technology had been approved by Cabinet in 2014. The Sri Lankan Government has also signed a loan agreement in this regard. However, the program has not been implemented since 2015.
The Ministry stated that the agreement was valid until 2021 and implementation of the digitisation program could be expedited once the committee submitted its recommendations. Gunawardana also instructed the Ministry Secretary to submit recommendations before 9 February.