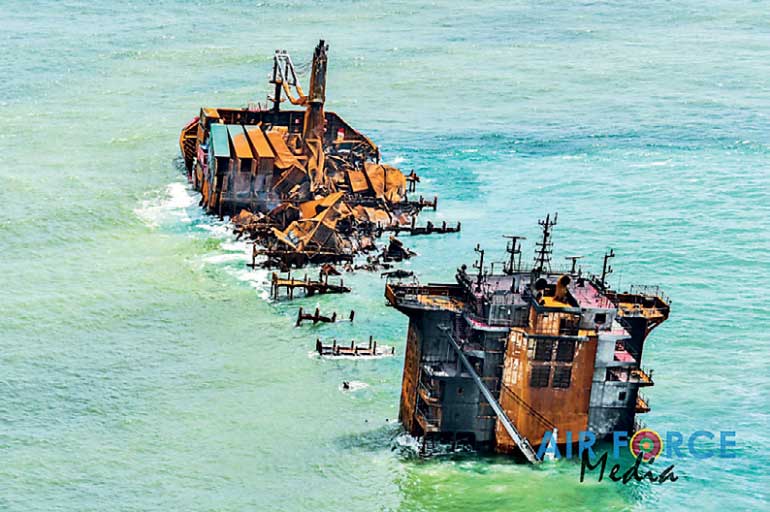 AG informs court of discrepancies in email logs between ship and local agents Sea Consortium Lanka
Court directs MV X-Press Pearl local agents to submit data from an external server and for the Navy to protect the wreck
Justice Ministry to coordinate claim efforts
---
By Asiri Fernando
---
The Ministry of Justice (MOJ) yesterday hosted a stakeholder consultation aimed at mapping out how the Government will approach claiming damages to the environment from the wrecking on the Singaporean-flagged container vessel MV X-Press Pearl and seek recompense for the response effort.

The move came as the Attorney General's (AG) Department informed the court that investigation revealed that there were discrepancies in the email logs between the local agents for the fire-stricken vessel Sea Consortium Lanka Ltd. and the ship and that there is suspicion that some emails may have been deleted during the timeline of the incident.

The court directed the local agents to provide a full copy of the data and logs of a company owned external server. The court also directed the Navy to provide security for the wrecked MV X-Press Pearl off the Colombo anchorage and ordered the Criminal Investigation Department to submit the data recorder to the vessel to be analysed.

According to the MOJ, the meeting was held under the leadership of Justice Minister Ali Sabry, Ports and Shipping Minister Rohitha Abeygunawardena, State Minister for Fisheries Kanchana Wijesekera and Attorney General (AG) Sanjay Rajaratnam P.C. The gathering was attended by State authorities, stakeholders and subject matter experts, the MOJ said.

At the meeting, ministries, departments and relevant agencies were tasked to carrying out an impact assessment of the incident to their respective area of responsibility, MP Wijesekera told Daily FT. "The impact assessments will be communicated to the Ministry of Justice and the Attorney General and they will decide the best course of action," MP Wijesekera added.

"The assessment of the damage from #XPressPearl and course of action needed to rebuild the #marine environment/resources n #fisheries industry will be prepared by a committee of officials and scientists from Fisheries Dept, NARA, NAQDA, Marine Biologis @ashadevos n other experts," MP Wijesekera tweeted.

Wijesekera pointed out that coastal fishermen from Negombo to Panadura have been immediately impacted by the incident, with an estimated 5,600 registered coastal fishing boats in the area. Steps are been taken with the assistance of the district secretariats to offer relief to the fishermen whose livelihoods have been affected, he added.

The Centre for Environmental Justice (CEJ) also lodged Fundamental Rights petitions at the Supreme Court last week over the MV X-Press Pearl incident. The CEJ is seeking an inquiry into how the distressed X-Press Pearl vessel entered Sri Lanka. The petitioners highlighted the extensive damage done to the environment from the incident and the State's lack of preparedness to respond to environmental and maritime emergencies.

The CID last week obtained a travel ban on the 25-member crew of the MV X-Press Pearl.