By Shanika Sriyananda

The goal of reconciliation is not embodied in infrastructure projects but in winning the hearts and minds of people who are in dire need for assistance to heal their wounds, President Secretary Austin Fernando said yesterday.

"It is a matter of the heart and mind. A heart to act and mind to think in reconciling the difficulties we are facing today," he said at a ceremony to launch a four-year program on reconciliation held in Colomboyesterday.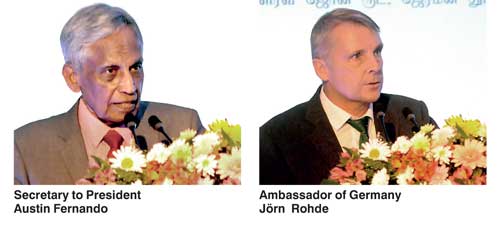 The Rs.2.7 billion worth program 'Strengthening Reconciliation Processes in Sri Lanka' was launched by the Ministry of National Integration and Reconciliation, the European Union and the Government of Germany together with the Ministry of Co-existence, Dialogue and Official Languages and the Office for National Unity and Reconciliation (ONUR).

It is implemented by the Deutsche Gesellschaft fue International Zusammenarbeit (GIZ) and the British Council.

Fernando, explaining the efforts taken by the Government since it came into power in 2015 January to strengthen the reconciliation process, said the Office of Missing Persons (OMP) was set up amidst much criticism.

"We went before the UNHCR and 13/1 resolution was passed and agreed on four pillars of the reconciliation. We have looked into the issue of missing persons and taken steps to resolve the issue in several ways.As we agreed to look into the accountability mechanism, we have appointed a group of professionals to look into the matter while appointing commissioners for the OMP," he explained.

He said the Steering Committee was now working on bringing Constitutional changes to ensure non-recurrence of any violence or conflicts in future.

"It is not only the diplomats and local politicians who should deal with reconciliation efforts but all political leaders, religious leaders and administrators, media, civil societies and any person who can be help in of contributing towards achieving reconciliation," he said.

The goal of the program is to support the Government, Non-Governmental and grassroots organisations in the national reconciliation process. Its primary focus is to track progress on national reconciliation, facilitate learning and strengthen institutions at national and sub-national levels and also to promote public engagement in policymaking.

Secretary to the Ministry of National Integration and Reconciliation V. Sivagnanasothy said that the Government was committed to reconciliation and peace building as they were fundamental to the sustainable development of the country.

He mentioned the programs implemented by the Ministry to improve the formulation of National Reconciliation Policy which was translated into National Reconciliation Action Plan, which includes many interventions to promote national integration and reconciliation and ensure non-recurrence.

"The project contributes to sustainable development of goal number 60 which focuses on promoting a just, peaceful and inclusive society. Reconciliation and peace building is all about changing the mindsets and pattern of thinking, including respecting diversity, ensuring equity, inclusiveness, fairness, building tolerance, empathy, and trust," he said.

Sivagnanasothy said that one should not get disappointed or distracted by a few pockets of incidents.

The program will also contribute to dealing with the past through memorialisation, strengthening mental health and psychological care and using art and culture as a medium to promote reconciliation.

European Ambassador Tung-Lai Margue said the EU had strengthened their partnership further with the Government by promoting reconciliation and since early 2016, the EU delegation started to prepare the program to support reconciliation efforts in Sri Lanka together with the Government.

"This project is unique as a large consultation process took place in its design with the support of all the stakeholders ranging from Government ministries, public office holders, civil society organisations, academia and think tanks. This wider consultation has resulted in a program responding to the challenges identified during those consultations, building on individual commitment and promoting peace and reconciliation," he noted.

Margue said that the project was very relevant in particular in the present context with the recent violence.

"It demonstrates that the trust-building component, which is included in the program, is very relevant. What we are trying to balance with the project is to draw long-term results covering a wide range of actions and institutional approaches to grass-root initiatives to meet the expectations of the people of Sri Lanka," he said, adding that the project was based on the assumption that poverty, conflict and exclusion must be addressed in a comprehensive way.

Sharing some experiences on German perspectives on reconciliation at the end of World War II, the Ambassador of Germany Jörn Rohde said Germany had reconciliation with its neighboursand it showed them how difficult and cumbersome was the reconciliation process.

"Healing and reconciliation take time. It is a personal and collective process. Every individual has different thoughts or approach to heal themselves and need to deal constructively with the past," he said.

Rohde said that the reconciliation process was slow for the victims but the efforts for reconciliation were worth.

He commended the efforts of the Government to open the OMP he said that the international partners were happy to contribute to the Government and the society's efforts to heal and reconcile. "The most important thing here in Sri Lanka is that reconciliation is taking place and also undertaken by the Government and the society as a whole," he said.

Pix by Gitika Talukdar