---
Early dissolution will enable to form majority Government says State Minister Shehan Semasinghe
Claims majority Govt. will expedite development projects
Says Govt. can manage VoA till end of March to provide promised refile
By Nuwan Senarathna

The Government yesterday expressed their willingness to discuss the early dissolution of Parliament with the United National Party (UNP).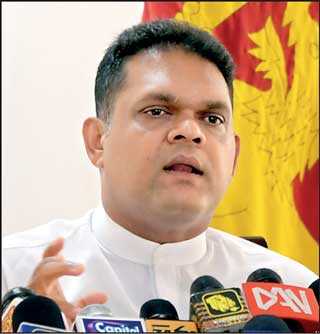 Development Banks and Loan Schemes State Minister Shehan Semasinghe

- Pic by Shehan Gunasekara




According to the Constitution, the President can dissolve Parliament only after the lapse of four and half years, or if a two-thirds majority of Parliament requests the same. Therefore, if the UNP agrees to dissolve Parliament, the President will be able to call for an early General Election.

Speaking to media at Temple Trees, Development Banks and Loan Schemes State Minister Shehan Semasinghe said that if they were able to find common ground with the UNP, they would not hesitate to dissolve Parliament early.

"We are ready to discuss with the UNP if they are willing to talk with us to dissolve Parliament. If we can dissolve Parliament early, that will help us to continue our development projects conveniently," he said.

Semasinghe pointed out that a majority Government will enable them to present a Budget, which will enhance the ability to implement President Gotabaya Rajapaksa's election manifesto. A new Budget will be able to allocate funds and capital expenditures to attain long-term development goals, he opined.

Meanwhile, Housing State Minister Indika Anuruddha pointed out that the Sri Lanka Podujana Peramuna (SLPP) expressed their willingness to hold talks with the UNP on early dissolution of Parliament when they were in Opposition.

"It is the UNP who were hesitant to dissolve Parliament early. We gave the green light to hold talks but the UNP was not interested. Even at the moment, they are struggling with internal battles rather than addressing national issues," he charged.

He noted the Government already discussed the management of funds allocated by the Vote on Account (VoA) until the end of March to continue all relief packages introduced by the President, even if they were unable to dissolve Parliament early.

"We can continue all the development projects that are already commenced. The sooner we form a majority Government, the better it is for the country," he said.