Calls for clear details to be released proactively to public
Warns public susceptible to fake news due to info vacuum
Accuses Govt. of giving regulatory exemptions to some groups and endangering the public
---
By Asiri Fernando
---
The Government has failed to be transparent regarding the latest COVID-19 cluster, leaving out critical information such as how new patients are linked to the cluster, and leaving the public confused and susceptible to fake news, the Samagi Jana Balawegaya (SJB) charged yesterday.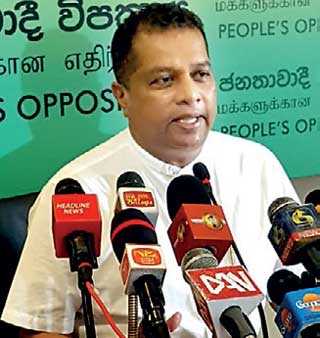 SJB Parliamentarian J.C. Alawathuwala
---
Addressing reporters, SJB parliamentarian J.C. Alawathuwala charged that the Government was not being transparent about the new COVID-19 outbreak centred on the Brandix factory in Minuwangoda.
"The public are not being told which areas patients have been identified from, and how they are linked to the cluster. The Government is not releasing information like they used to and that is leading to the public being confused and susceptible to fake news," Alawathuwala argued.

"One of the key ways of preventing the spread of the virus is education. The public needs to be made aware of which areas they should avoid, especially in the absence of curfew. But today the Government is not revealing that critical information, they are keeping the public in the dark." The Opposition MP questioned why the Government was denying the prevalence of community transmission of the virus given the soaring daily numbers, and insisted medical experts do not agree with the Government's point of view.

He argued that the quarantine law is being applied inconsistently by the Government, which was making it difficult to contain the virus.

"Now if you see this situation with those who were returned to Sri Lanka from India by a private company, normally they would be quarantined in centres and monitored. However, the Public Health Inspectors (PHI's) claim that they were not aware of such a group and that they did not monitor them nor check compliance on the 14-day quarantine regulations on the said returned persons," he stated. Alawathuwala pointed out that the PHI's are the cornerstone of the public health regulations monitoring and compliance mechanism. "The Government should take responsibility for applying the law differently to different groups and thereby endangering the entire population," he charged, calling on the Government to apply the law to all equally, as promised in the President's election manifesto.