Says patients, including those affected by cancer, struggling to find meds
Estimates 150 types of medicines either in low supply or not available at all
---
By Asiri Fernando
---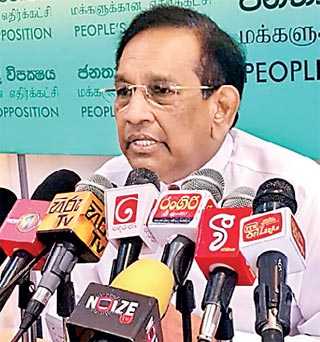 SJB Parliamentarian Dr. Rajitha Senaratne addressing the press yesterday
---
The Government has no plans to address critical shortages in medicine at State hospitals, former Minister of Health and Opposition MP Dr. Rajitha Senaratne charged yesterday, calling for the issue to be resolved to ease the burden placed on patients.

Speaking at a press conference held at the Opposition Leader's office, the Samagi Jana Balawegaya (SJB) MP argued that the established mechanism to import medicines needed by State hospitals has been thrown into disarray since 2020.

"Today, there is a crisis in Government hospitals. There is a critical shortage of medicines. This crisis didn't occur overnight, it began when the present Government came in to power. There have been reports about it in the press too. Operation theatre lists are severely backlogged due to lack of essential medicines, consumables and equipment for surgery," he charged.

The Opposition MP stated he was told that a large number of medicines were out of stock and there were shortcomings in the supply of them.

"My sources have told me that around 150 types of medicines are either out of stock or are in low supply. Key amongst these are medicines used to treat cancer patients. A patient who contacted me said that she had to find funds to buy two doses of cancer medication from the private sector and has not been able to afford the third dose for over three months. She has now been told her cancer is spreading again," Dr. Senaratne said.

He opined that the purchase model in place from 2015 to ensure there were no shortages of medication has been overlooked by the Government and called on them to act swiftly to ensure the shortage is met and the import of medicines to the country streamlined.