---
Pledges to review past inquiry reports on the topic
Assures will inquire into alleged human rights violations
Reiterates will work closely with UN agencies
Says homegrown mechanism will deal with any innocents harassed
By Nuwan Senarathna

The Government is likely to appoint a Commission of Inquiry (COI) to enable reconciliation and accountability through a domestic mechanism after the General Election, Government Spokesman and State Minister for Investment Promotion Keheliya Rambukwella said.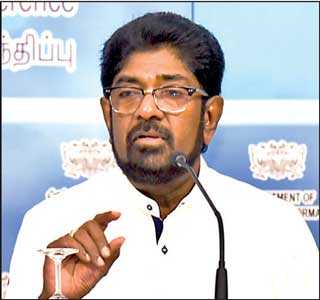 State Minister for Investment Promotion Keheliya Rambukwella

- Pic Ruwan Walpola


Foreign Relations Minister Dinesh Gunawardena on Wednesday announced Sri Lanka's withdrawal from the United Nations Human Right Council (UNHRC) Resolution 30/1 and Resolution 40/1. However, the Government assured that a mechanism would be domestically designed to promote reconciliation and accountability.

The Government informed the UNHRC that it plans to review existing reports which inquired into allegations of war crimes and human rights violations.

Speaking to reporters at the Prime Minister's office, Rambukwella assured that the COI would meet required standards and look into alleged human rights violations and war crimes. "The Government will deal with it if innocent people were harassed," he opined.

"We will have a homegrown system and ensure that it will meet the standards and safeguard our sovereignty…As a sovereign nation we are capable of looking into those allegations," he said.

The State Minister reiterated the Government will work closely with the UN and other international agencies while giving prominence to a 'homegrown' mechanism to inquire into allegations and promote sustainable peace.

Rambukwella assured that the Government is committed to achieving a sustainable peace through a domestically-designed mechanism that will include all stakeholders.

The Government spokesman claimed Sri Lanka had proven that a domestic mechanism would help promote reconciliation. He argued that the rehabilitation of 12,000 former LTTE cadres was one the biggest achievement.

"Those former LTTE cadres who were rehabilitated are living a normal life now. They are living among the public. This shows that we are capable of handling these matters by ourselves. Therefore, a homegrown system is the best way to promote reconciliation and accountability," he added.

Meanwhile, Sri Lanka Podujana Peramuna (SLPP) Chairman and former Foreign Minister Prof. G.L Peiris echoed the Government's stance on the matter saying that action would be taken to promote reconciliation and accountability while protecting the sovereignty of the country.