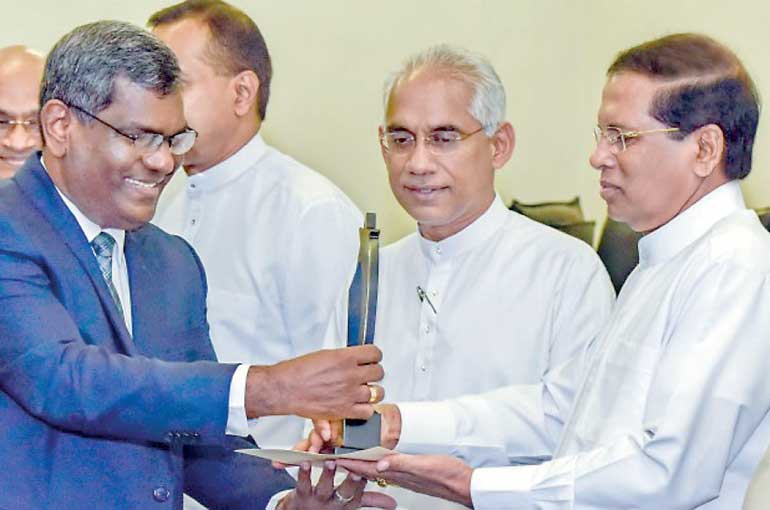 President Maithripala Sirisena on Monday said the Government was committed to restore the collapsed public service to its past glory.

Decades ago more efficient and a stronger public service prevailed in the country and later due to the interference of politicians the public service deteriorated, the President stated.

He made these remarks while addressing the National Awards ceremony held at Parliament on 13 November. The awards were presented according to the results of the review program held by the Committee on Public Accounts of Parliament.

National Awards were presented to 81 institutions under various groups, which showed the highest performance subsequent to reviewing information gathered using computerised information related to the 2015 financial year.

Under the present Government all have received the opportunity of working independently and impartially, the President said and pointed out that the awards ceremony was further evidence of that fact. He also commended all those who organised the awards ceremony.

President Sirisena pointed out that after the present Government came to power there was greater fear created in the country over indulging in fraud and corruption.

The President said that it was necessary to build a strong public service while eliminating the weakness of the public service and said that these kinds of awards ceremonies would help to strengthen the service.

The President presented gold awards to institutions which showed a high performance and strictly followed the financial regulations for 2015.

Prime Minister Ranil Wickremesinghe, Speaker Karu Jayasuriya, Committee on Public Accounts Chairman Lasantha Alagiyawanna, Auditor General Gamini Wijesinghe, Secretary-General of Parliament Dhammika Dasanayake, ministers and MPs participated in this occasion.