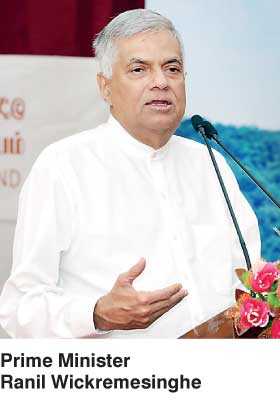 Prime Minister Ranil Wickremesinghe yesterday said that a special program will be prepared to protect the environment during the next 10 years.

The Premier said the policy of the Government is to protect nature, and Sri Lanka is striving to protect the environment together with the help of international organisations.

The Prime Minister emphasised that protection of the environment along with its development is everyone's responsibility, and that the natural resources of the country should be utilised with proper management.

The Prime Minister expressed these views at a function held in Galkiriyagama yesterday to open the National Namal Uyana Project Office of the Central Cultural Fund. The Information Centre and the official website of the archaeological site were opened under the patronage of the Prime Minister.

At the occasion, the Prime Minister planted a Naa sapling at the premises and garlanded a statue of late President J. R. Jayawardena at the national park.

The Jathika Namal Uyana, Sri Lanka, is the largest ironwood forest and pink quartz mountain in Asia. The historical mountain is situated in Anuradhapura district 7 km from Madatugama junction of the Colombo-Anuradhapura highway.

Namal Uyana is an ancient resource and according to the present information, the pink quartz is said to be 550 million years old.

The Premier said that while steps have been taken to hand over the historical national park to the Cultural Triangle Fund, the tourism industry needs to be expanded in this area, too.

"The foreign policy of our country should not only be limited to State regulation and relations with countries, but also to protect the country's foreign policies, the environment and the climate, and the country should be developed with full focus on protecting the environment," the Prime Minister said.

The Premier further said that during his last visit to Norway, his primary focus was obtaining aid from the Government of Norway to protect the climate and the environment in Sri Lanka.

"We hope to negotiate with the Norwegian Government in the future on the measures we have to take on marine safety and ocean development," he added.

Namal Uyana custodian Wanawasi Rahula Thero, Minister Chandrani Bandara, and Government officials also participated in the occasion.