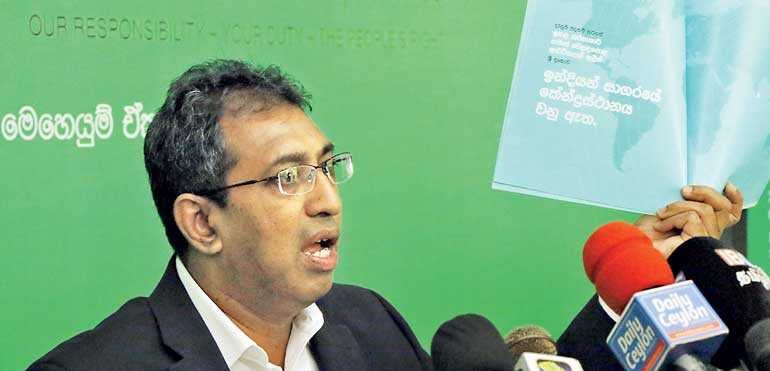 By Skandha Gunasekara

The Government yesterday said that it would further develop the TRACE Expert City IT and Technology Centre, and that it had no intention of doing away with the project.

State Minister of National Policies and Economic Affairs Dr. Harsha de Silva said yesterday that the Government was keen on upgrading TRACE City.

"TRACE City is becoming the technology hub of the country. At present, only Phase One of the project has been implemented. We will be initiating Phase Two shortly and Phase Three will follow soon after," Dr. de Silva said, addressing a media briefing at the UNP Headquarters in Pita Kotte yesterday.

He said that, during a recent visit to the site, he had learned that youth employed at TRACE City were earning over Rs. 150,000 a month.

In addition, the Minister said that no one was in favour of the demolition of TRACE City so as to expand the Maradana Railway Station.

"We will not demolish TRACE Expert City. The Minister of Megapolis and Western Development has not approved such a move."

Furthermore, the Minister commended former Defence Secretary Gotabhaya Rajapaksa for commencing the venture during the tenure of the previous administration.

"It does not matter which government began TRACE City, it is a good venture which Sri Lanka needs and we intend to develop it further. It is my personal view that if a project is beneficial to the Nation, it should be taken forward no matter which government started it," the Minister said. In addition, allaying fears and allegations that the Sri Lanka–Singapore Free Trade Agreement (SLSFTA) would see a mass exodus of foreign nationals entering the Lankan job market, Dr. de Silva said that the FTA had no clause.

"These are baseless claims made by those who want to politicise the issue for their own personal gain. The FTA with Singapore in no way allows the free movement of people between the two nations for employment purposes."

However, the Minister asserted that it was crucial that Sri Lanka join the Regional Comprehensive Economic Partnership (RCEP).

"A total of 16 nations, including those in the ASEAN, as well as Australia, New Zealand, Japan, China and India, will be joining this partnership. New Pakistani Prime Minister Imran Khan has indicated that his nation, too, was interested in the partnership as well. We will be the only country from the Indian Ocean region that will not be a part of it."

He said that Sri Lanka must avoid being isolated in the region.

"We must let go of this South Asian region mindset. We must look further and realise that we are the centre of the Indian Ocean, which is an ideal location to exploit the economic activities in the region. Sri Lanka must integrate with the Indian Ocean economy if we are to prosper as a nation," Dr. de Silva said.