Says presidential candidate needs to be a career politician
JVP presidential candidate to be announced on 18 August at Galle Face Green
The Janatha Vimukthi Peramuna (JVP) yesterday said the Sri Lanka Podujana Peramuna (SLPP) had selected the weakest option as a presidential candidate when it announced former Defence Secretary Gotabaya Rajapaksa as their presidential hopeful. Speaking to media at JVP head office in Battaramulla, Pelawatte, Parliamentarian Vijitha Herath said Gotabaya Rajapaksa lacked the qualities necessary to be a competent national leader.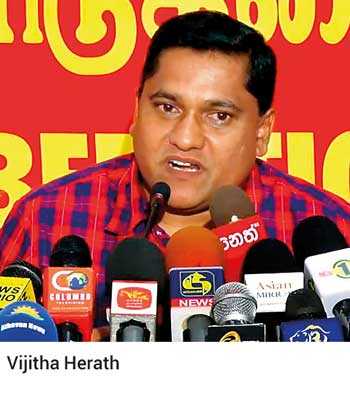 "Rajapaksa has shown he does not have the financial discipline or ability to be a good administer, which are the most essential qualities to being the President. We do not think he can change the country," Herath said.

Herath said the SLPP Presidential candidate will be a new face to Sri Lankan politics but Gotabaya Rajapaksa was not a new face as he was a member of the Rajapaksa administration when his brother was President and was heavily criticised for corruption.

He noted a Presidential candidate should have experience as a career politician and basic understanding of how the bureaucracy works at different levels of Government.

"The country needs a Presidential candidate who is a career politician. Our candidate is a career politician who has been working at all levels of the governance structure and grass root level issues that need to be addressed immediately."

According to Herath, the country needs a leader that is capable of preventing corruption, and has the capacity to uphold the law and lead the country to towards development. He noted the public was looking for a new option as they are fed up of politicians from previous administrations being put forward as candidates for the latest elections. "The JVP is the option the public is looking for. The public is fed up of both blue and green administrations. They have understood both parties are full of corrupt politicians, therefore they want a new political culture to end corruption."

He said the JVP will announce their Presidential candidate on 18 August at Galle Face Green as an option for those fed up of corrupt politics. He noted civil society activists, scholars, trade unions will join together to support their Presidential candidate.