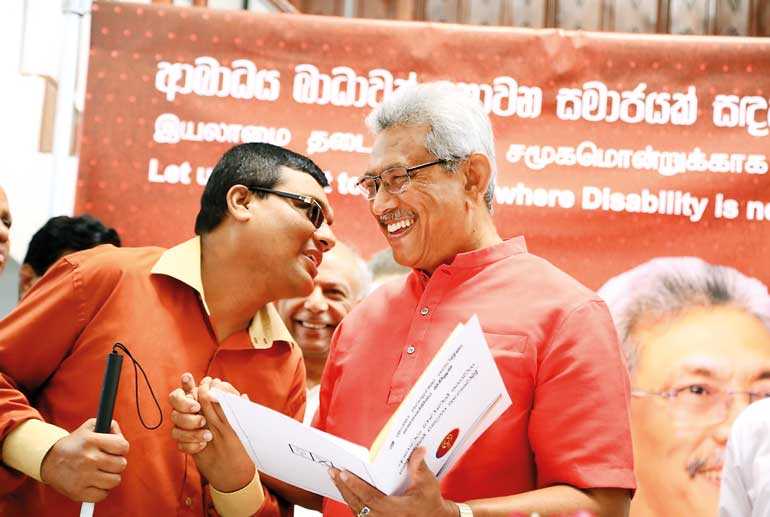 SLPP presidential candidate Gotabaya Rajapaksa smiles while in conversation with a visually-impaired person at the signing of the MoU on the rights of the differently-abled - Pic by Ruwan Walpola
Launches manifesto in Braille
Promises to introduce ballot paper and Gazettes in Braille
By Nuwan Senarathna

Sri Lanka Podujana Peramuna (SLPP) presidential aspirant Gotabaya Rajapaksa yesterday signed a Memorandum of Understanding (MoU) with the Sri Lanka Sahakampana Organisation and Joint Front for differently-abled people and pledged, if elected, to uphold their right to equality and inclusion.

The MoU was signed at Gotabaya Rajapaksa's office in Mirihana. Following the MoU signing, Rajapaksa launched the manifesto in Braille and as a recording. He pledged to ratify the Convention on the Rights of the Persons with Disabilities.

However, the Sri Lankan Government signed the UN Convention on the Rights of People with Disabilities on 30 March 2007, and it was ratified after a lapse of nearly ten years, to come into effect from 9 March 2016.

"I will take necessary measures to uphold equal rights for people with disabilities. It was us who created pavements in Colombo which have special features for the differently-abled. They should also have equal privileges as other citizens in education and when seeking employment, and voting," Rajapaksa said.

Rajapaksa also said he would introduce a Braille ballot paper that visually-impaired people can use to cast their votes, without seeking anyone's help. He noted he would discuss with the Election Commission on how to improve polling stations to be more inclusive.

Meanwhile, SLPP spokesman MP Dullas Alahapperuma told media at Viyathmaga office in Pita Kotte that they would take measures to improve accessibility for differently-abled people for all Government offices.

"We have to identify the needs of differently-abled people. They have equal rights and we all have to respect that. The first task of Opposition Leader Mahinda Rajapaksa when he became the Prime Minister was to improve accessibility for disabled persons at the Prime Minister's office," he said.

He noted the SLPP as a political party had recognised the importance of upholding equal rights. Alahapperuma pointed out that equal rights will be a core policy in their policies, so no one will be left behind.

Alahapperuma noted Rajapaksa would introduce a Gazette in Braille, which would be more convenient for visually-impaired persons to use.