---
AFP: Sri Lanka's Foreign Ministry said yesterday that it was investigating a Swiss complaint that one of its embassy staff in Colombo had been detained and forced to hand over sensitive information.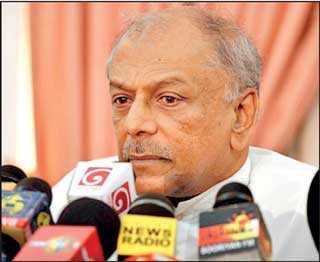 Foreign Minister

Dinesh Gunawardena


Switzerland's Ambassador in Colombo has protested to Sri Lanka's Prime Minister Mahinda Rajapaksa and Foreign Minister Dinesh Gunawardena over the case, the Swiss Foreign Ministry said.

"Switzerland considers the incident to be very serious and an unacceptable attack on one of its diplomatic missions and its employees," it told AFP in Geneva.

Sri Lanka's Foreign Affairs Ministry said yesterday that it was "informed of the alleged incident yesterday" and the police have "taken immediate action to commence an investigation into the matter." According to media reports, a Sri Lankan woman employee of the embassy was picked up on a Colombo street on Monday, detained for several hours, and was only freed after revealing embassy information.

The staffer was reportedly forced to open her mobile phone and reveal names of Sri Lankans who had recently sought asylum in Switzerland.

The incident came a day after a top Sri Lankan Police detective fled the country for the small European nation.

The officer had been investigating several cases involving members of the Rajapaksa family, who regained power after Gotabaya Rajapaksa won the 16 November Presidential Election.

Earlier this week, Police alerted the airport immigration authorities to stop any Police officer leaving the country without permission.