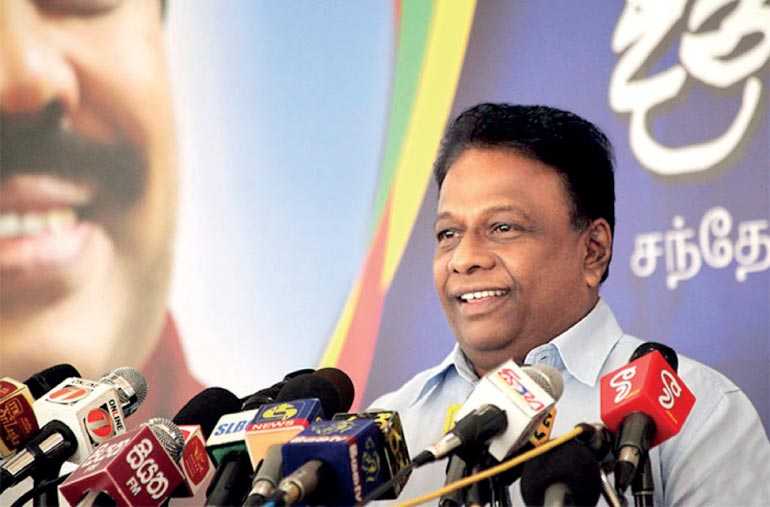 Dullas Alahapperuma
---
Top-level meeting to be held to study this week's progress
Dullas says reopening of schools will be the last step in normalising the country
Says public transportation will be biggest challenge and meeting to be held with Transport Ministry to address issues
---
By Nuwan Senarathna
---
In the wake of the Government lifting the curfew, Education Minister Dullas Alahapperuma yesterday said the dates for reopening of schools will be decided by next week, following a meeting with health experts. The Minister expressed these views following a meeting held at the Ministry which was held with health experts and ministry officials to discuss the possibility of reopening schools.

Alahapperuma said the Education Ministry and health experts would study public behaviour and other requirements such as public transportation before making a decision. He noted this week would be crucial to the entire country to see how effective social distancing measures were being followed.

According to the Education Minister, schools will be reopening once the country fully tackles the COVID-19 outbreak and it will be the last step to normalize the country. "We do not want to take any risks. The safety of the children will be our priority. Therefore reopening of schools will be the last step of the normalising process," he said. Alahapperuma said the Ministry had introduced guidelines to follow social distancing and provide a way to minimize spreading the virus. He pointed out that schools will be provided with thermometers to check the body temperature of students and other resources.

"Every school will have hand-washing facilities and the number of students in the school will be decided based on the capacity of hand washing facilities at that particular school." The Education Minister earlier said classes will likely restart on a staggered basis with Advanced Level students returning to school first and other grades to follow gradually later.

According to Alahapperuma, providing public transportation will be the biggest challenge to re-open schools. "The biggest challenge is providing transport facilities to students. Maintaining social distancing in public transportation is a bit difficult. If we are unable to give assurance for that there is no point of reopening schools as there is a high risk of exposing children via public transportation," he added.

Education Minister also noted a special discussion will be held with the Transport Ministry to find ways to provide transport to children. He reassured that the Education Ministry will consider all aspects before reopening schools.