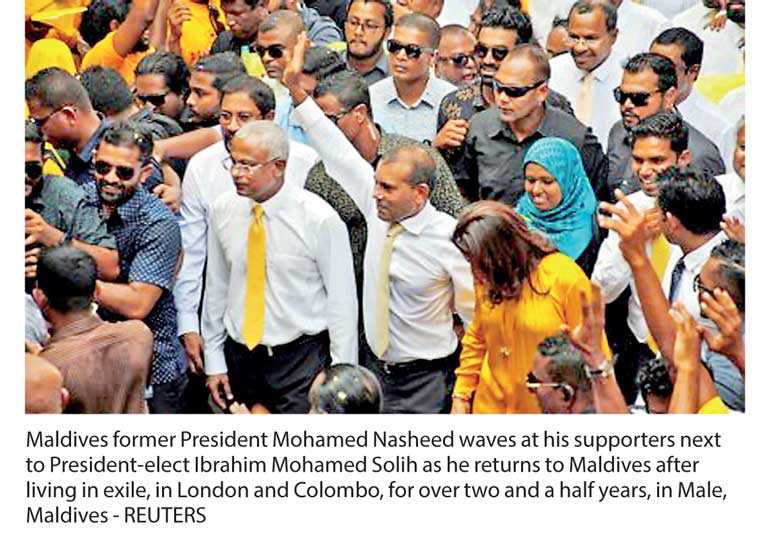 Reuters: Maldives' opposition leader Mohamed Nasheed, returning from exile yesterday, said the new government, which his party backs, will work to pay off $ 3 billion in Chinese loans, mainly borrowed by the government of outgoing president Abdulla Yameen.

Nasheed, a former president, returned from nearly three years exile to a hero's welcome from his supporters after the Maldives Supreme Court stayed his 13-year sentence on terrorism charges this week. He has said the charges were politically motivated.

Thousands of people clad in yellow, the colour of the Nasheed-led opposition, lined streets in the capital to greet the former president. Nasheed walked the streets with his supporters, who waved party flags along with president-elect Mohamed Ibrahim Solih who Nasheed's Maldives Democratic Party (MDP), main party in the joint opposition, chose as presidential candidate. Solih won a surprise presidential election victory on 23 September and Yameen is due to hand over power on 17 November. Yameen's petition on election malpractices was dismissed by the Supreme Court.

"From the information I have, the debt to China alone is $ 3 billion. It will be a huge burden on the people. The government of Ibu will work to pay off these debts while developing the country," Nasheed, a close ally of Solih, told reporters.

The Maldives under Yameen grew close to China - to the alarm of traditional ally India - with China funding roads, bridges and an extension to the international airport as part of its Belt and Road Initiative (BRI) of infrastructure projects in almost 70 countries from Mongolia to Montenegro.

The opposition and some analysts say Chinese involvement could lead to the tiny island chain in the Indian Ocean sinking deep into debt.