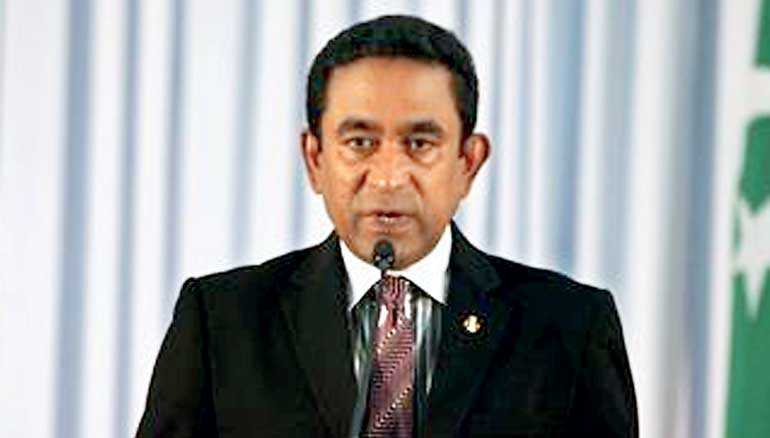 FILE PHOTO: Abdulla Yameen takes his oath as the President of Maldives during a swearing-in ceremony at the parliament in Male -REUTERS
Reuters: The European Union could adopt sanctions ranging from travel bans to asset freezes against those in the Maldives responsible for human rights violations and undermining the rule of law in the Indian Ocean island chain, the bloc warned yesterday.

There has been political upheaval in the Maldives since February, when President Abdulla Yameen imposed a 45-day state of emergency to annul a Supreme Court ruling quashing the convictions of nine opposition leaders, including the first democratically elected leader, Mohamed Nasheed.

Yesterday's decision was a direct follow up to the Council's conclusions of 26 February that urged Yameen's government to engage with opposition leaders for credible, transparent and inclusive presidential elections, the European Union said.

"This decision makes it possible, if the situation does not improve, to impose a travel ban and an asset freeze on relevant individuals and entities," it said in a statement, without identifying any targets.

The situation did not accord with principles of democratic rule and separation of powers, it added, warning that targeted measures could be considered if the situation did not improve.

Maldives government officials did not immediately respond to telephone calls from Reuters to seek comment.

In Colombo, the British High Commission said the United Kingdom was concerned over lack of judicial independence in Maldives and the Government's intention to reintroduce the death penalty after a ban of more than 60 years.

The move comes ahead of a presidential election set for 23 September at which Yameen will seek a second five-year term.

The Opposition has accused Yameen's Government of jailing its leaders who could challenge his re-election bid.

The Government denies this.

Already, Nasheed has withdrawn his candidacy in the presidential election after the national election commission ruled him ineligible to run.

The Maldives, home to 400,000 people and best known as a tropical paradise for tourists, has experienced political unrest since Nasheed was forced to quit amid a police mutiny in 2012.

Nasheed was convicted of terrorism charges in 2015 and sentenced to 13 years in prison after a controversial and widely criticised trial.

Allowed to leave the Maldives on medical grounds in 2016, he secured asylum in Britain and has lived in Sri Lanka since last year.