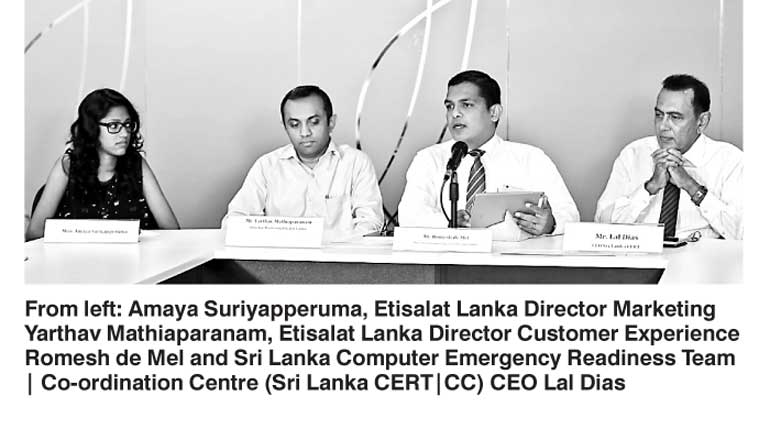 In today's hyper-connected world, we expect to receive instant responses for all our electronic communications. While it assists us to carry out our day to day activities efficiently, it can also lead to spread hate messages instantly. Not only does it end from one hurtful post of teasing, it may also accumulate more hurtful and hateful comments from the cyberspace. Commonly known as cyber-bullying, this social behaviour is on the rise in Sri Lanka causing irreversible damage in the future generation. Identifying this social issue, Etisalat recently held a forum to eradicate cyber-bullying in Sri Lanka at their office premises.

The forum was moderated by Etisalat Lanka Director Customer Experience Romesh de Mel with the participating panellists: Sri Lanka Computer Emergency Readiness Team | Co-ordination Centre (Sri Lanka CERT|CC) CEO Lal Dias, Etisalat Lanka Director Marketing Yarthav Mathiaparanam and Amaya Suriyapperuma (Wonder Woman Cosplayer) deliberating over the issue.

"With the introduction of social media people have now taken the freedom of expression in to a different level. We notice that lot of youngsters are using this tool to bully their friends. What they do not understand is that cyber-bullying treads on the fine lines of expressing one's opinion and actually bullying a person. As a responsible telecom service provider we believe it is important to create awareness about this behaviour and implement a code of ethics and a reporting mechanism which goes beyond reporting, blocking and deleting the pages/personal profiles," Etisalat Lanka Director Marketing Yarthav Mathiaparanam noted.

Sri Lanka CERT CEO Lal Dias, when asked about the procedure that is in place to report cyber-bullying noted that: "At present people can report a profile or page and block the people who are bullying them. Unfortunately, the legal procedure that we have to bring the involved parties to justice is lengthy. Cyber-bullying aggravates due to the post going viral because the same post can be used by another party to further add hurt to the victim. The report, block, delete method which is currently in place is not that effective and we have seen these pages coming back online after several days. At the end of this forum we have understood that a proper legal frame work needs to be in place to eradicate cyber-bullying in Sri Lanka. Even if we have the proper legal framework, if we don't get the support/co-operation from service providers from other countries, it will be difficult to see successful prosecution. On the other hand, ethical use of social media and safe use of social media and technology has to be highlighted. Prevention is better than cure."

The forum also invited Amaya Suriyapperuma to share her story. Amaya was a victim of cyber-bullying after the Lankan Comic Con event which was held earlier this year. "I took part at the Lankan Comic Con held earlier this year and was excited to wear a Wonder Woman costume and be part of the event. But soon after my photo went on Facebook people started to insult me on my appearance through their comments; it got a bit out of hand when online trolls started to circulate my photo through Meme pages. Luckily for me I got the support of the online community who sent me words of encouragement. I know this is always not the case and believe this forum will help us take the message of awareness out to the public."

The forum brought together prominent online influencers, representatives from Sri Lanka CERT and media in a casual setting to amicably debate about the issue and to look at reducing the incidents by introducing a functional reporting process, rallying a group of online activists to be witnesses and proactively report such individuals/organisations to the legal bodies and explore avenues to increase awareness among the public.