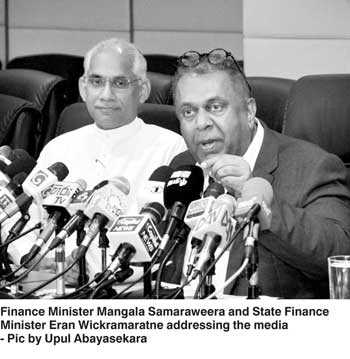 By Charumini de Silva

Emphasising on the need to take action against corrupt jailors in the prison system, Finance Minister Mangala Samaraweera yesterday said the best way to address the escalating drug menace in the country was to fully enforce the rule of law.

Opposing the decision to re-enact death penalty to prisoners convicted of drug-related offenses, Finance Minister Samaraweera highlighted that prison system needs to be cleaned up first.

"I am against resuming execution. It is not the best way to alleviate crimes in a country and there is enough proof in all parts of the world, particularly in some states of the US," the Minister told journalists in Colombo.

The Minister also emphasised on the need to take action against the main culprits responsible for running the drug cartels in the country.

"The ones that are in the prison are not the ring leaders, they are just peddlers and second level dealers.

The big ones are hide behind charity work, affluent social work organisations and religious organisations — we need a system to catch them with enforcing law and order in full force," Samaraweera said.

The Minister also noted the need to establish more rehabilitation centres in the country to save the younger generation that had got addicted to various types of drugs.

Although the Government had taken the decision to re-enact the death penalty with good intentions to alleviate use of drug, the Minister suggested that 'life imprisonment' was a more humane way of making a person realise of his wrongdoing for the rest of his/her life.