Minister vows to provide clean drinking water to every school
Natural disaster a cause for delay in funds reaching Education Ministry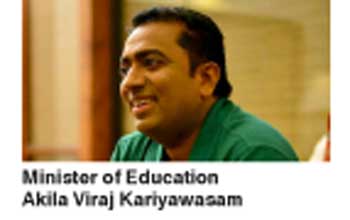 By Skandha Gunasekara

The upcoming year will see all schools across the country being provided with electricity, Minister of Education Akila Viraj Kariyawasam pledged in Parliament on Thursday.

Taking part in yesterday's Committee Stage debate on the expenditure heads coming under the Ministry of Education, Ministry of Sports and the Ministry of Internal Affairs, Wayamba Development and Cultural Affairs, the Minister said the Government also intended to ensure that all schools will have clean drinking water facilities.

A project to install 26,000 toilets in schools will also be carried out, he said.

Responding to allegations by the Opposition that allocations made through the previous Budget had been underutilised, the Education Minister said: "We have increased the number of science labs to 3,100 and increased mobile labs to 3,600. If a student is hospitalised, we pay Rs. 1,000 a day and Rs. 10,000 for medication. We have built 250 technical labs while another 35 are in the process of being built. We are also renovating 6,000 schools and 99 dental units have been built. We have also given a range of sports facilities and renovated 39 estate schools. In Polonnaruwa the Government has built trilingual schools and teachers' quarters. In addition to increasing the allowance of state employees, we increased the allowances of grade one principals through a Cabinet paper." He added that funds being directed as relief aid for natural disasters that occurred last year had been one of the main reasons for delays in money coming into his ministry.

The Minister said that the Government plans to implement a teacher transfer policy and hopes to transfer an estimated 15,000 teachers. A mechanism to provide technical training to students apart from mainstream subjects will be initiated and Rs. 700 million will be spent to buy books to be distributed among schools as a method of promoting reading, the Minister told the House.