---
The Police have taken in to custody eight persons in connection with the killing of Sri Lanka Self-Employed Professionals' National Three-Wheeler Federation Chairman Sunil Jayawardena.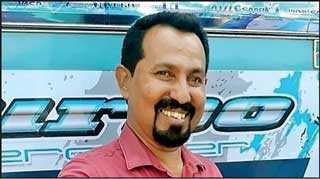 Sunil Jayawardena


The suspects were remanded till 25 June by the Nugegoda Magistrate and will be submitted to an identification parade the Police said.

Jayawardena (53) died upon admission to the Kalubowila Hospital after he was assaulted by a group of individuals in Mirihana on Wednesday (10) evening.

The Mirihana Police has launched a murder investigation into the death.

A video of the alleged assault, recorded by a motorist, has been circulating on social media as well.

According to the Police, Jayawardena had been assaulted in front of a leasing company in Mirihana around 6 p.m. on Wednesday after he had visited the establishment to discuss the release of a three-wheeler which belonged to a Federation member, which had been detained.

Jayawardena, a resident of Kesbawa and a candidate for the upcoming General Election, had published several video messages on social media urging President Gotabaya Rajapaksa to take action against leasing companies which prey on self-employed three-wheeler drivers days before his death.