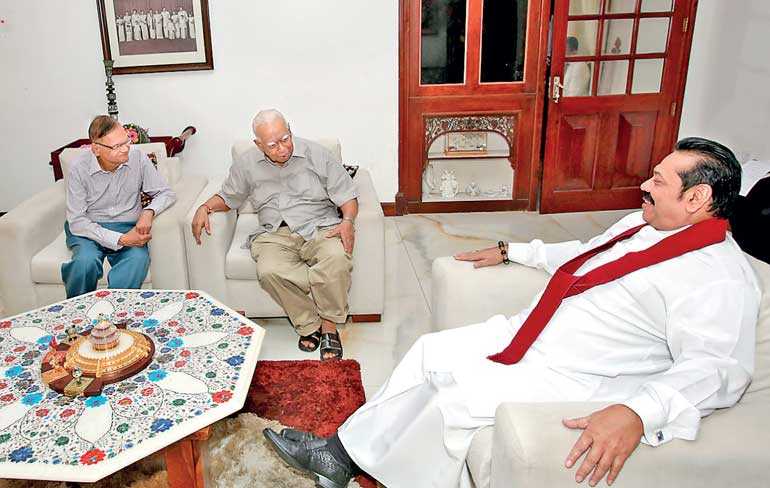 By a staff reporter

Newly-appointed Prime Minister Mahinda Rajapaksa had requested the support of the Tamil National Alliance to build his majority in Parliament yesterday, Daily FT learns.

The former President met with Tamil National Alliance Leader R. Sampanthan at Rajapaksa's residence last morning.

During the meeting, that Sampanthan later clarified had happened on an invitation by the former President, Rajapaksa urged the TNA Chief and his 15 MPs to lend their support to him as both sides frantically try to make the magic 113 mark and prove a majority in Parliament as the constitutional crisis entered its fifth day yesterday.

Sampanthan reportedly said he would consider the request, along with his colleagues but made it conditional on a clear plan of action for implementation, Daily FT learns.

Former President Rajapaksa has been strongly critical of the UNP obtaining the TNA's support to pass legislation and the Tamil party's votes to defeat the JO's no-confidence motion in Parliament in April this year.

After the meeting, which the former President tweeted about officially, the TNA Chief, who is also the Leader of the Opposition, issued a statement saying he had only met "Mr. Mahinda Rajapaksha" yesterday at his residence, in his capacity as TNA Leader.

"No matter was discussed at this meeting pertaining to the post of Leader of the Opposition. Any statement to that effect is deliberately false," Sampanthan's statement said.

Rajapaksa had wanted to meet Sampanthan at the Prime Minister's Office, but the Opposition Leader opted to meet him at his residence instead, TNA Spokesman said in an interview outside Parliament yesterday.