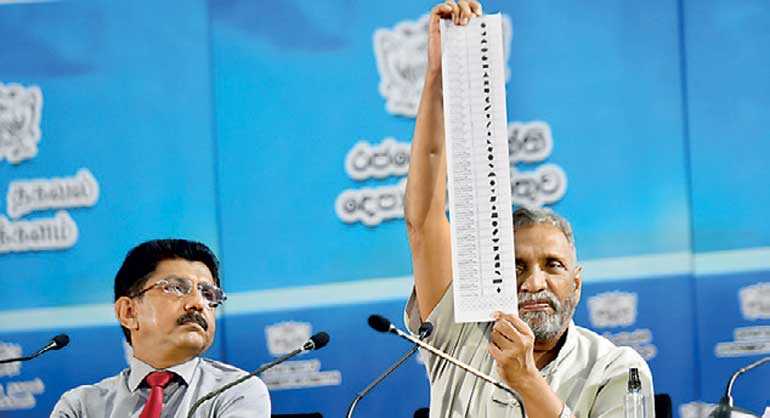 Election Commission Chairman Mahinda Deshapriya holds a ballot paper as Health Services Director General Dr. Anil Jasinghe looks on - Pic by Pradeep Pathirana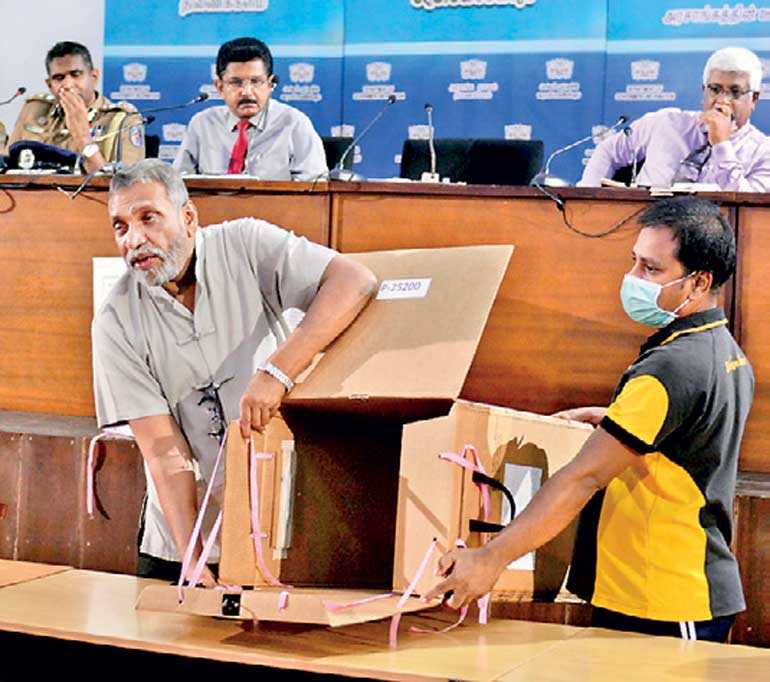 Says all security measures in place to ensure no fraud takes place during polling or counting
Opines all elections in last 40 years have been devoid of rigging expect three
Says Police given guns to use if necessary, not to be kept as brooms


Election Commission (EC) Chairman Mahinda Deshapriya yesterday sought to dispel fears that election rigging could take place as the counting of votes has been fixed for the day after the poll, saying all necessary arrangements are in place to ensure there are no irregularities.

"Some rumours are going around that ballot boxes will be changed and there will be rigging as counting will begin the day after the poll but there are enough security measures to ensure no such thing happens," Deshapriya said while giving a detailed explanation on how the ballot boxes would be secured after polls close at 5 p.m. on 5 August.

The counting will begin at 7 a.m. on 6 August due to the COVID-19 health regulations, unlike in previous years when counting began the same night as polling day.

The EC Chairman said that there were proven allegations that ballot boxes were changed only in three elections, namely during the 1981 District Development Council (DDC) polls in Jaffna and the 1982 referendum and the North Western Province (Wayamba ) Provincial Councils polls in 1999 but in the past 40 years all other elections have been conducted without any fraud. "Many cases have been filed challenging election results but none of the allegations were proven," Deshapriya recalled.

He said that in the past there were incidents when thugs had broken into polling booths and threatened officials with guns and knives but such incidents are unlikely to happen again and even if they do happen, the poll in such a centre will be annulled.

"As I have told the Police in the past, they have been given guns not to be kept as brooms but to be used if necessary to keep polling booths secure," the Elections Chief said.