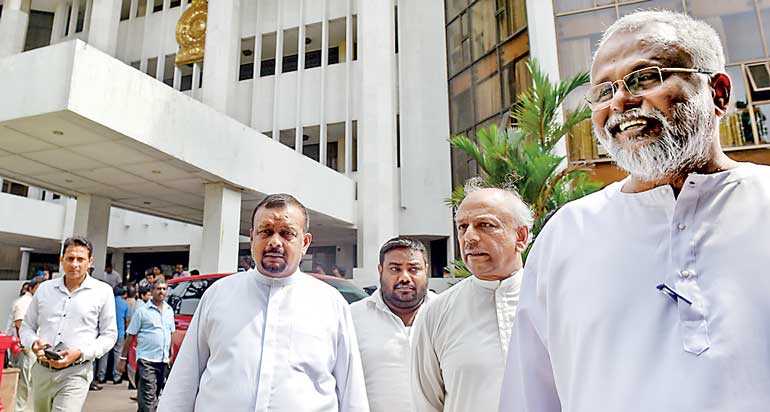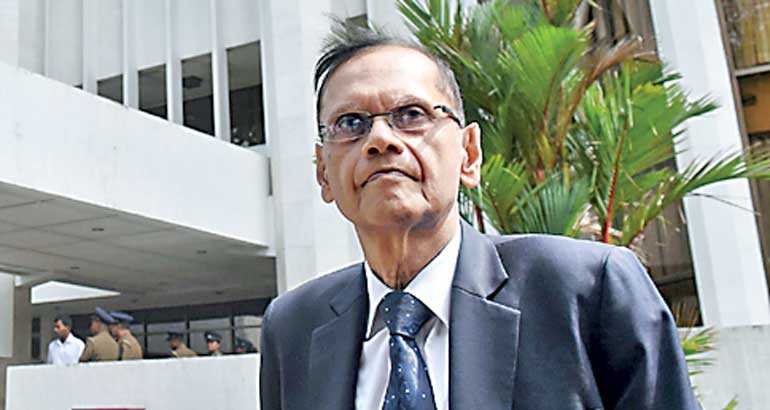 MPs Douglas Devananda (R), Dinesh Gunawardena (2R) and former MP G.L. Peiris seen outside the Supreme Court complex yesterday
- Pix by AFP
---
Says changes needed to clarify appointment of main Opposition
Charges if TNA is supportive of UNP, it cannot be main Opposition
Insists relook at how P'ment can be dissolved
Keheliya slams accepting vote by voice in P'ment
By Nuwan Senarathna

In the wake of discussions over the possibility of bringing changes to the 19th Amendment, Sri Lanka Podujana Peramuna (SLPP) MP Dullas Alahpperuma yesterday said specific clauses need to be included in the 19th Amendment to provide provisions to name the Opposition, dissolution of Parliament, and how to act in the case of an alleged assassination attempt.

"Among the amendments which were discussed to bring to the 19th Amendment, were proper processes to be included to name the Opposition, dissolution of Parliament and how to act if an alleged attempt to assassinate the President was revealed," MP Alahapperuma told reporters at the Western Province Aesthetic Resort (NADA).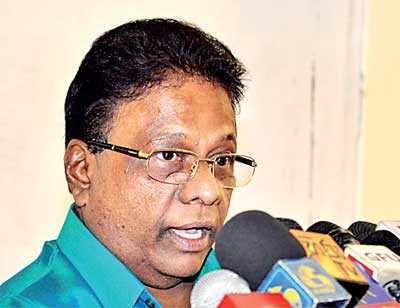 MP Dullas Alahpperuma
MP Alahapperuma pointed out if the Tamil National Alliance (TNA) supports MP Ranil Wickremesinghe to restore the pre-October 26 position in Parliament, it would raise questions of the TNA functioning as main Opposition in Parliament, which could be prevented with proper procedure. "If the TNA supports MP Ranil Wickremesinghe in Parliament to restore United National Front (UNF) Government. That would make the TNA a member of the Government, therefore, they cannot act as the main Opposition anymore. But we feel the Constitution is not clear enough on this point."

He noted that Speaker Karu Jayasuriya had turned down requests from the Joint Opposition (JO) to name them as the Opposition in Parliament, because the JO consisted of MPs of the United People's Freedom Alliance (UPFA), which was a member of the coalition Government. Alahapperuma argued the same principle should have applied if TNA supports MP Ranil Wickremesinghe.

He emphasised Speaker Jayasuriya should have to act according to the Constitution, Standing Orders and traditions of Parliament to name the main Opposition. "Any party which supports the Government cannot be named as the Opposition. If the Speaker takes such a decision, that could violate Parliamentary traditions and Standing Orders," he added.

Meanwhile, defending his argument urging to introduce specific clauses to dissolve Parliament, he noted if Sri Lanka faces a political deadlock once again in the future, such clauses could prevent such crisis. "If we had a procedure to dissolve Parliament in a situation like at the moment, this crisis would never have arisen," he claimed.

Highlighting the alleged plot to assassinate President Maithipala Sirisena, Alahapperuma suggested a new clause should be introduced by legal experts, if the Prime Minister or his party is implicated in alleged attempts to assassinate the President.

"Legal experts have to consider including new clauses to provide provisions to act if the Prime Minister is linked to any attempt to assassinate the President," he added.

MP Keheliya Rambukwella, speaking in his turn, criticised Speaker Karu Jayasuriya for allowing to pass Motions by voice. He noted the same process could be used to pass Bills, which are crucial to national security.

"According to this method, TNA and UNF can pass a new Constitution, if they wish. Therefore this is a very dangerous situation, that is why we keep saying this is not a genuine Parliament," he charged.

Rambukwella charged Speaker Jayasuriya's decision to pass Motions based on sound could also be used to manipulatively pass certain Bills in Parliament.

According to Ramubukwella, Speaker Jayasuriya's actions had posed threats to traditions of Parliament, insisting parliamentary proceedings after 14 November were not legitimate.