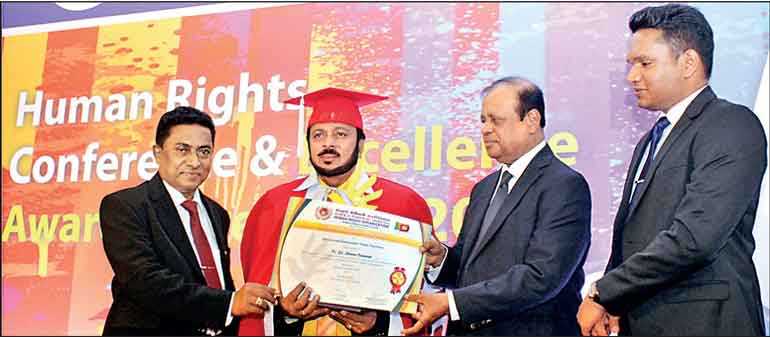 Charith Group Chairman Dr. Clarence Kumarage receiving the award from State Minister for Education Reforms Susil Premajayantha

---
Charith Group of Companies Chairman Dr. Clarence Kumarage added another feather to his cap when the Human Rights Organisation presented him with an 'Award of Excellence' recently.

This is taking into account the prominence of Dr. Kumarage in the field of human rights.

One of the key initiatives by him was to assist employees who were shunned from their workplaces due to the employers suffering from financial losses during the COVID-19 pandemic. "Firstly, we offered them financial assistance and dry rations to keep their home fires burning. Secondly, we spoke to their employers and got them reemployed," he said.

In addition, "I spent around Rs. 1. 7 million from my personal funds to provide dry rations to families in lockdown areas and provided them with medical supplies and also protective gear. Another initiative I undertook was to provide my transport to employees who were stuck in Colombo to get back to their native places especially in the South and Uva Provinces.

"Armed with the Human Rights Organisation presented 'Award of Excellence' I want to get involved in discourse for Sri Lanka in Geneva and remind the world of the great humanitarian operation that our security forces led towards the end of the war to save the people from the clutches of the LTTE."

He said that while the Government is battling from the diplomatic angle, he is keen to rally some international business leaders, especially from the UK to speak on behalf of Sri Lanka.

Dr. Sir Kumarage was earlier presented with a Knighthood at the 56th World Congress of Integrated Medicines, organised by Medicina Alternativa and Open International University for Complementary Medicines, (OIUCM). He is also the only Knight Commander of Asia Pacific from Sri Lanka.

Dr. Kumarage, who represented Sri Lanka, was honoured with Knighthood at the event. Dr Kumarage was the only Sri Lankan to receive this prestigious recognition and he would now represent the 'Honourable Society of Knights.'

He holds a PhD from the UK, B.Sc (Hons), and was also honoured with the Deshamanya, Desha Bandu, Keerthi Sri Lanka Abhimani, Viyapara Vibushana, Awards earlier.

"Since I have many business links with the UK I want to use this to portray a positive human rights image of Sri Lanka through UK business circles," he said.

The Charith Group of Companies, based at the World Trade Centre, is a diversified family-owned venture, has several divisions such as Charith Enterprises, (Import and Export Arm) Charith Cosmetics (Importers and Distributors of Amin's and Gold Herbal Black Henna, Royal Black Hair Shampoo) Charith Filling Station, (Operates at Rattanapitiya, Baddegama and Ambalangoda), Charith Empire (importers of the branded hotel and household items) and Charith Holiday Resort Nuwara Eliya.

Jayani Nilushika Kumarage is the Managing Director of Charith Group, while his two children Charith Kumarage and Jini Kumarage are Director Marketing and Director Business Development respectively.

The Company is the importer of "Amin's Herbal Black Henna" for over 20 years and was awarded the Best Importers for the last 18 years from among 17 countries and won the President Flame Award three times successfully.