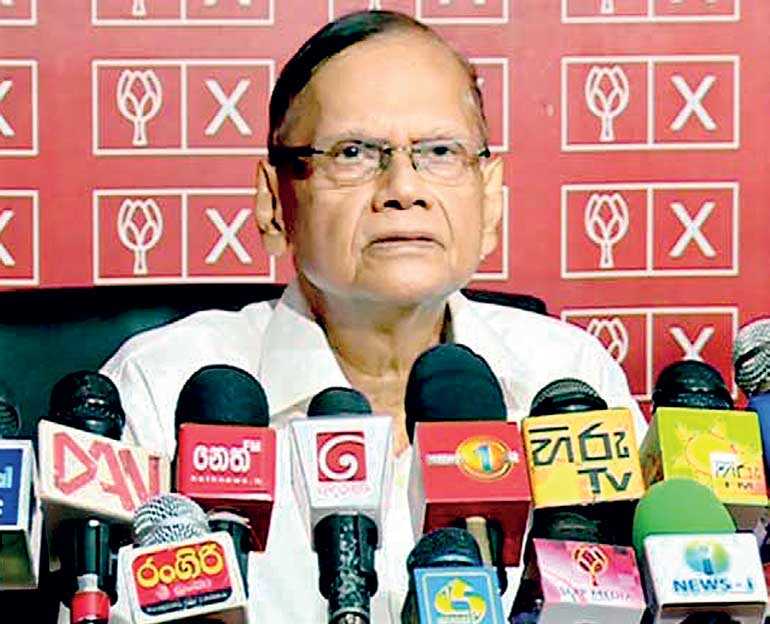 Sri Lanka Podujana Peramuna Chairman Prof. G. L. Peiris
---
Sri Lanka Podujana Peramuna (SLPP) Chairman Prof. G. L. Peiris yesterday played down dissenting voices within the Government against the 20th Amendment insisting that it was part of the democratic process.
Prof. Peiris told reporters that opposing views on a selection of clauses included in the 20th Amendment by National Freedom Front (NFF) leader Wimal Weerawansa and SLPP parliamentarian Wijeyadasa Rajapakshe was part of the democratic process of citizens having the right to express their views.

"There are several stages to getting key legislation of this nature passed. There have been 39 petitions filed before the Supreme Court and we are awaiting the court's decision on whether or not we need to hold a referendum. This decision will be conveyed to the Speaker by 12 October, which is the end of the three week period specified in the Constitution. Then, there will be changes at the committee stage and already we have said that some changes will be made," he said.

However, Prof. Peiris declined to elaborate whether the points raised by Weerawansa would be changed. On Sunday, Weerawansa said his party objected to dual citizens being allowed to hold any post in parliament, including becoming Executive President, as well as the passing of emergency legislation without prior gazette publications. The NFF also objected to certain companies that the Government was a majority shareholder in being exempt from the oversight of the Auditor General.

Prof. Peiris defended the inclusion of dual citizenship, reiterating that it was only introduced in the 19th Amendment to target specific members of the Rajapaksa family.