---
Defence Secy calls for global joint strategy on terror and extremism
Says developing countries need extra assistance to combat radicalisation
Backs stronger engagement on multiple levels
Delegates of US and EU countries noticeable absentees at Defence Seminar 2019
The Government yesterday called for a global joint strategy to combat terrorism and violent extremism, insisting that developing countries need special assistance and support to upgrade their capabilities to combat radicalisation and extremist organisations.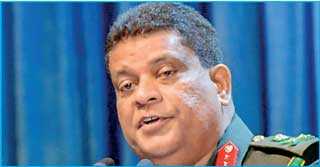 Army Commander Lieutenant General Shavendra Silva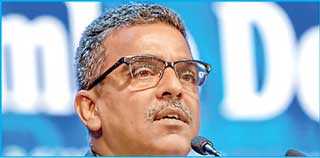 Strategic Analyst Nitin A. Gokhale


The concerns were expressed by Defence Ministry Secretary General (Retd) Shantha Kottegoda at the launch of the Colombo Defence Seminar 2019.

The Colombo Defence Seminar 2019, a two-day gathering of military, academics, policymakers, and intelligentsia kicked off on Thursday, and was organised by the Sri Lanka Army for the 9th consecutive year.

Kottegoda called for a joint strategy to combat the scourge of terrorism. Such a strategy will need to have an emphasis to counter the rise of violent extremism he said, pointing out that developing countries need special assistance and support in upgrading their digital technology to combat the threats of radicalisation and organisation of terrorists in the cyber domain.

"It is vital to strengthen counterterrorism collaborations through enhanced regional and interregional counterterrorism frameworks, strategies, action plans and harmonised legislations, to facilitate mutual legal assistance and cooperation," he said.

This year, the absence of diplomats and defence attachés of the United States and many European Union countries was noticeable. However, strong participation of regional countries, African, South East Asian, South American states, and Russia and China was evident.

Delivering the opening remarks, Kottegoda pointed out that the safety and security of the Indian Ocean Region (IOR) needed close collaboration of all states. He expressed concern that religious extremism in the IOR presented an opportunity for the external global powers to actively become involved in the regional security issues and to maintain a military presence and bases in the name of global security and stability.

Army Commander Lieutenant General Shavendra Silva, delivering the welcome address, said that the Colombo Defence Seminar was designed to share Sri Lankan experiences. "I would like to reiterate the fact that the Colombo Defence Seminar was designed to share our experiences, not necessarily our successes, but also the debacles endured by us. In this era of information, where success depends on how best information is received and processed, we strongly believe that information should be shared among like-minded nations," he said.

Commenting on the rapid advancement of military technology and automation and the growing shift toward robotic or autonomous warfare, Silva argued that human involvement in security is something that cannot be written off hastily. Many policymakers and military leaders are still stuck with an outdated mindset, claimed Strategic Analyst Nitin A. Gokhale. Delivering the keynote speech at the Defence Seminar, Gokhale pointed out that strategists and military leaders need to look to future threats through a modern threat calculation prism. "Now, we are above to enter the 3rd decade of the 21st century, but many people are still stuck in the 20th century models and thinking of security challenges that were obtained during those years," he claimed.

Future militaries need a range of capabilities in counter-insurgency, nation-building, protection of populations, Gokhale argued, pointing out that Sri Lanka's experience in counterterrorism and counter-insurgency was valuable. "I was in Sri Lanka to report on the Eelam War IV. In Eelam War IV many lessons were learnt. The success of the Eelam War IV was due to political, diplomatic, and military sector operations. The future is always unpredictable and the next war will not come with any warning, and it will be a time-tested one in the battle between both governments and the militaries. Therefore, the themes discussed in this 'Defence Seminar' are important to the whole world, not only to Sri Lanka," Gokhale stressed. Gokhale claimed that the future requires armed forces that are agile, mobile, and driven by technology, not just human valour. "Militaries need capabilities to win swift wars, for we will not have the luxury of long-drawn battles. Armed forces must fully incorporate the power of digital networks and space assets into their capabilities. Equally, they must be prepared to defend them, for they will be the first targets of the adversaries," he said.

Both Kottegoda and Gokhale highlighted rapid urbanisation, climate challenges, refugee movement, demographic growth, and resource scarcity, especially water, as future security concerns and possible flash points. The challenges faced by developing countries such as Sri Lanka in approaching current and future threats in the space and cyber domain was also discussed.